Erica Louise from Recycled Fashion is going to be facilitating a workshop as part of Fashion Month at Colour Box Studio.
Her workshop will make you look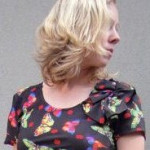 differently at cereal boxes that's for sure! In the Upcycled Bead Workshop on Saturday 30 March, you will learn a simple technique of cutting, rolling, and gluing cardboard paper to make a small bead with which to produce a colourful necklace or bracelet. The same technique will allow you to create a pair of recycled earrings.
Erica recently had a chat with us about her practice. Read below for details and for more details about the workshop:
CLICK HERE
Tell us a bit about your arts practice.
I craft using recycled material.  I make fashion pieces using second hand clothes and fabric, which I document on my blog in the hope to inspire others to do the same.  I also make fashion accessories using recycled materials such as zippers, fabric scraps and cardboard boxes, I teach others how to do this too by way of workshops in and around Melbourne.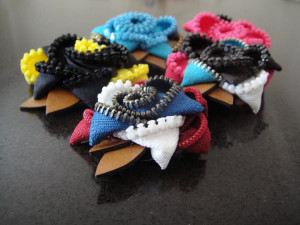 What inspires you to create works?  
There is nothing better than creating something new from old, so when I make something wearable out of otherwise waste material, that makes me happy.  However, what really inspires me to continue to do what I do, is when others try out a recycled project that perhaps they've seen on my blog, or via one of my workshops.  If more people craft using existing materials rather than buying new, that can only be a good thing, right?
Why is it important to you to share you skills through workshops?
As we live in a world of convenience, many of us have lost our way when it comes to being resourceful.  With simple crafting skills that I teach in my workshops, making gifts for others, or something a little special for ourselves, is actually really easy to do.  Not only that, but crafting using existing material is cheap, practical, and good for the environment.
Tell us a bit more about your workshop.
In this particular workshop at Colour Box Studio, I'll be teaching a simple technique of cutting, rolling, and gluing cardboard to make a small bead with which to produce a colourful necklace or bracelet. We will be using everyday household cardboard such as cereal boxes, tissue boxes, and used greetings cards, all of which we have access to on a daily basis. Participants will leave the class learning a simple craft which can be achieved on an almost zero budget, by using material that may  otherwise end up in landfill.
Why is the Sustainable Ethical Local Fashion theme important to you and your practice.
The ethical and sustainable fashion umbrella encompasses many stems. When we buy a fashion product from a high street retailer, we have absolutely no idea how that piece has been produced.  If we choose an ethically made, locally produced fashion item, that in itself is more sustainable.  If we create our own recycled fashion, it is not only a sustainable option, but also the most resourceful.
What are your thoughts about Colour Box Studio?
What a fantastic initiative to create a community creative hub, that helps to promote and support local art across so many platforms. I love the idea of pop-up shops, where visitors can buy products from local artisans, and workshops where visitors gain a new skill by learning a craft.  I'm honoured to be part of such a great initiative.
For more details about the workshop: CLICK HERE