Ivan Malekin is an emerging and award-winning director and editor. His films range from the dark and twisted to the absurd and … twisted. He tells stories that engage and entertain and seeks the challenge, the dash of unique, the heart in every project.
His 2012 feature film, Dace Decklan: Private Eye, is insane, picking up an apt award at the notorious MUFF and is available now at the Colour Box Studio Pop Up Book Shop (236 Nicholson St, Footscray).
Tell us a little bit about yourself and what you do.
I am a filmmaker.  Have been so for the past six years.  Short films, documentaries, and one feature film – Dace Decklan: Private Eye.  Hopefully many more films to come.  Can't see myself doing anything else … except writing.  Retreating to a hillside villa in France one day to write a epic fantasy novel would be pretty neat.
Describe your creative practice
Think it, write it, plan it, gather a crew, equipment, locations, cast, somehow find the money … always looking for money … then shoot it.  That's only half of it though.  Post-production – edit, sound, music, colour grade, posters, DVD designs.  Now submit to festivals and hope somebody accepts it.
Perhaps there is no form of art that is as challenging and collaborative and committed as film?  No offence meant to fellow artists.  I said 'perhaps'.  Dace Decklan: Private Eye took four years to make from production to post.  El Western, my latest short film, also took four years from script to screen.  That's a lot of cups of coffee.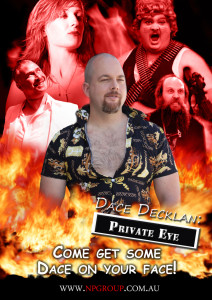 How did you come to it?
Stumbled into it.  My background is in writing – for a long-time I wanted to be a novelist and would lock myself in my bedroom typing away and not be content until I reached by daily word count target.  Then I helped a friend make a film and loved the experience.  Watching characters come to life before your eyes – it was a new perspective.  And I wanted to see more.  Writing – though I love it – is isolating.  Film is gregarious.
Tell us about your past projects. What has been your most treasured creation?
I've completed about ten short films I think.  The first few were pretty average – a learning curve.  The latest, El Western, a 25 minute send-up of spaghetti westerns from yesteryear, is going to become my most treasured film I believe.  It has taken four years to finish.  I've made mistakes on the way, but I've learned more than any other film due to the people met in the journey to completion.  In the end, everything has come together beautifully and there has been a tremendous energy amongst the cast and crew.  For me, personally, I believe El Western will be a turning point short film.
Where did you grow up and has it influenced what you create?
Was born in Footscray, actually.  Did a little growing up here, but the majority of it in St Albans.  A true Westie.  But no, can't say it has had much influence on my work.
What is your current project?
Mirror of Filth.  A short film about sex, porn and love; self realisation through self-destruction.  We're actually trying to raise funds for it at the moment through a crowd-funding campaign.  Remember what I said about always looking for money?  Well, check it out below:
http://www.pozible.com/project/26445
Who or what was your inspiration?
Robert Rodriguez and his one man film crew motto was an early inspiration.  Not that I have ever shot a film with a one man crew – it is his industrious nature and creative solutions to budget constraints that I admired.
Today, I don't really have a favourite filmmaker or film for that matter.  Anybody that challenges convention or does something extraordinary within the conventions is an inspiration.  It all depends on mood, I think.  Sometimes I want to be inspired and challenged.  Other times, I just want to be entertained.
Where do you feel most creative? 
Sitting in bed in the middle of winter with the heater on and the laptop firing.
What can visitors to expect to see from you in the Colour Box Studio Pop Up Shop?
Dace Decklan DVDs.  Share them with your enemies.
http://www.npgroup.com.au/dace_decklan_private_eye.html
A friendly smile if you see me around too.  Always an added bonus.
Colour Box Studio Pop Up Book Shop (236 Nicholson St, Footscray) is open Tues-Friday 12-6PM and Saturday 11-4pm.