Wynter Project's popular West Projections festival is on now in Footscray and Colour Box Studio is contributing with a pop up projection '
Creative Jam
' event at the Creative Containers down by the Maribyrnong River on 15th August. Local Melbourne artist Krystal Schultheiss will be showcased on the night and available for an artist talk as part of the West Projections Art Tour (book via the
Wynter Project's website
). We caught up with Krystal to find out more about her practice and her creative inspiration.
Featured image: Image provided by the artist. Photo credit: Ben Wesley
Tell us a little bit about yourself and your creative practice.
I am an artist and motion graphics designer currently working and based in Melbourne. I have been exhibiting animated works since 2007 and performing as a visual artist (VJ) since 2010.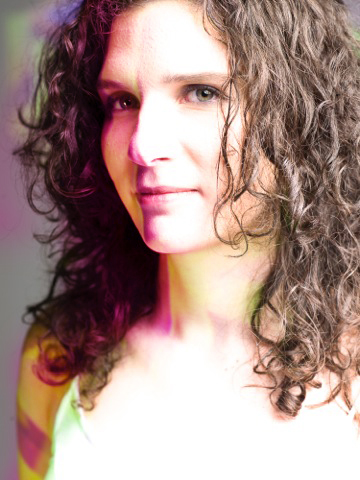 Within my arts practice I explore and experiment with the notion of creating immersive experiences for audiences. I am interested in questioning the understanding of visual and spatial awareness. In my arts practice I experiment with the visual interpretation of rhythm, flow of movement and visual abstraction as an expression of a phenomenological encounter with reality.
Exhibitions include: Gertrude Street Projection Festival 2015, Melbourne White Nights 2015, Digital Graffiti 2015 (USA), First Site RMIT Gallery CAFA & RMIT, Neo Goth: Back in Black, UQ Art Gallery Queensland, Naoussa International Short Film & Video Festival Municipal Theatre of Naoussa (Greece) Australian Gothic, Perth Institute of Contemporary Arts and Directors Lounge (Germany)

What has been your most treasured creation/ project?
'Reprise' which was exhibited at the Gertrude Street Projection Festival is my favourite installation artwork I have made. The project fuses a few of my passions together. Projection Mapping, Animation and Yoga. Last year I completed my yoga 200 hour teacher training. I found the experience extremely emotionally and physically challenging. The experience left such a positive impact on my life that I felt a strong motivation express this through my arts practice.
Where did you all grow up and has it influenced what you create?
I grew up in Keilor Downs then moved to St Albans, then Essendon, then Templestowe and finally before I finished High School I moved to Collingwood in Melbourne, Australia. At the same time I would spend every second weekend from age 9 in Albert Park. You could say I grew up in some unpleasant and pleasant suburban neighbourhoods. Yoga was not encouraged. To me, moving around Melbourne enabled me to feel separate from suburban and social stigmas. This enabled me to experience the world as the facade we create personally and as a community. I felt I was not bound and held back by peoples ideas, expectations in my community. Moving around Melbourne encouraged me to become passionate about becoming creative individual no matter where I lived.
Who or what was inspires your creativity?
I feel I have meet many creative individuals who have inspired me. I've always felt that when I encountered people working in animation, projection mapping and people who practice yoga, that they were always gifted. I've noticed I have had become so mesmerised by what they were able to do that I felt they almost had some kinda special magic power and more then human.
Considering they are just normal people, I felt inspired to to take up yoga, and get into projection mapping. I'm mostly inspired by my own curiosity and ability to push my self to learn things that I feel are impossible to learn. I also love pinterest and the endless desire to collect and organise inspiration. As I continue to make art I noticed I am driven and directed by my instinct rather then aesthetic.
Where/ when do you feel most creative?
I think feel most creative at home or at work in the FloodSlicer studio, with a pen and paper in hand in front of my pinterest board. Although I feel my favourite ideas have come to me after mediation and when I am relaxed and rested.
Tell us about you participation in Gertrude St Projection Festival.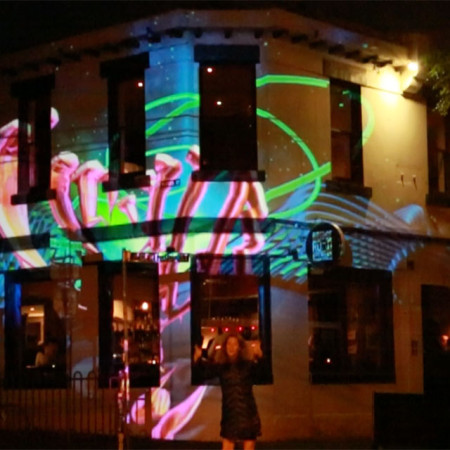 I was so excited to exhibit at the GSPF. I was always inspired by the large projections of the commission flats for years. I was also memorised and inspired by the projections at the first White Nights in Melbourne and by works projected mapped on the Gertrude Street hotel over the last few years. Last year I had worked on a projection mapped piece with the architectural visualisation studio FloodSlicer where I work, on a peice for GSPF.When the festival offered me the Gertrude Street Hotel as a site to exhibit on with a 15,000 lumen projector this year, I was pretty thrilled. I was very grateful the Gertrude Street team was very helpful and trusting in enabling me to create and develop the artwork for the site.
The motion tracking of the yoga movements was the most time consuming and laborious element of the whole project. A good friend of mine and yoga teacher Masha Gorodilova and I worked together on the yoga sequence included in the piece. Together we worked on a sequence that we felt would be work with the architecture of the building. We took the window frames into consideration when choosing yoga poses and the transitional movements between poses. I filmed her amazing movements and skill and then tracked and traced her movements digitally.
I took this data and imported it into a 3D program and began to find the shape of the poses Masha was practicing. It was then I felt I needed to give the movement context. I then felt inspired to design a space in which could transform the the hotel specially and at the same time illustrate the mood in which I feel when practicing yoga.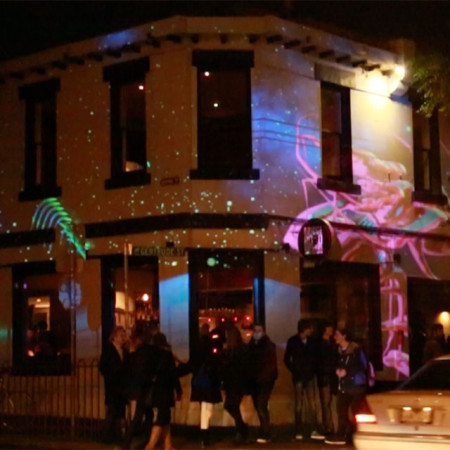 I fell when viewers watched the projection they may not have recognised the yoga movements. Whether they became aware of it or not, I felt that I wanted to give the viewer the experience for viewing familiar abstracted organic movement. I fell that yoga in it's many forms is a positive and compassionate practice and I feel that these themes are carried though 'Reprise' and have the potentially to effect the viewer in this way.
Whose work are you digging right now?
At the moment some artist inspiring me are GMUNK, NONOTAK and Beeple. 


What are you working on next?
I have a few VJ shows coming up. Stay tuned!
Where can we see more of your work? (Please provide links)
Website: krystalshultheiss.com
Facebook page: facebook.com/VJKS.live.motion
Instagram: instagram.com/krystalstuff
vimeo: vimeo.com/krystalschultheiss