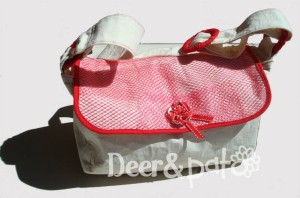 Deer & Pato is a Melbourne based company that creates handbags, accessories and jewellery made with upcycled and reused materials. They design and create original pieces with materials that would otherwise end up in landfill. Because all the materials they use come from different sources each bag is one of a kind. There is no mass production here! Deer & Pato is available at the Colour Box Studio Summer Pop Up Shop until the 21st of December. We spoke to these thrifty ladies about there creative business.
Tell us a little bit about yourself and what you do.
Erika Deery (Deer) and Paty Galan (Pato) are both from Mexico and met in 2010 while joining Mexican dance group Mexbourne.
Erika: I am from Guadalajara, Mexico.  I am a Procurement Analyst which means most of the times I work with numbers and business people.  However, I have a creative side and little by little I have been learning how to sew doing different pieces and garments.
Paty: I am an architect from Mexico City with experience in urban landscaping.  I have a passion for design, sustainability and the environmentally friendly.
How did you start your creative business and why?
We became really good friends after dancing together for a couple of years.  Then we realised we were both interested in creativity, design and the environment.
Where did you grow up and has it influenced what you create?
Growing up in Mexico has definitely influenced what we create.  We absolutely love using colour in our designs.  Most of our designs are defined by the materials we can get a hold off, and then working out what we can do with them.
What is your current project?
We are currently experimenting with packaging materials that are in our everyday food and drinks.  For example, our Citrus bags have fruit/vegetable nets and can tabs.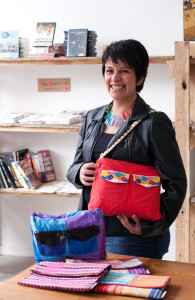 Who or what was your inspiration?
Our inspiration comes from different places.  One is the realisation of how much waste we produce in Australia and which of those materials can be saved from landfill.  The other place is what is going on in Melbourne and around the world.  Some times inspiration just pops and we run with it.
What can visitors expect to see from you in the Colour Box Studio Summer Pop Up Shop?
There will be some clutches made of Mexican weaved fabric as well as our citrus bags.  We also have a couple of bags made of rescued umbrellas who were victims of the Melbourne winds.  These are one of a kind.
What advice would you give to those considering starting a creative business?
First of all, do what you find fun and inspiring.  Also, we have noticed that it is hard to put your work out there as sometimes you wonder "will people like it?".  Just go for it.  Go to markets and see which one works best for your product.
Where can we see more of your work?
We will be at Makers Market in Abbotsford on the 8th of December.  You can also find us online in our website http://deerandpato.bigcartel.com/
———————————–
Colour Box Studio Summer Pop Up Shop
236 Nicholson St, Footscray
OPEN: Tues-Fri 12-6pm, Sat & Sun 11-4pm
Open until 21 December 2013 & Showcasing over 20 Melbourne artists/ designers/ makers.
HOW TO GET THERE | MORE INFORMATION | CONTACT