At Colour Box Studio we love to support our members and their latest projects. CBS member, Tamara Russell, is currently exhibiting at the Brunswick Street Gallery as part of the Small Works Art Prize. In this interview we chat to the Melbourne based artist about her process and the importance of sustainability in creative practice. Read on to gain some insight into Tamara's unique work.  
Tell us a little bit about yourself and an overview of your creative process.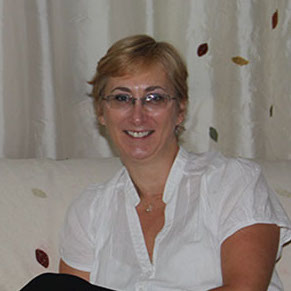 I am a Textile Artist specialising in free machine embroidery and hand stitching. I enjoy creating and sharing craft skills and ideas along with introducing people to creative ways they can incorporate up-cycled, recycled or reclaimed materials into their craft.
My interest in craft began in my early teens having a very creative mother who was always creating something new. She taught me to sew on her old trusty Anchor machine, which I still own. Whilst still at school I spent much of my spare time sewing, embroidering, spinning and knitting.
My work is a combination of photography and/or watercolour painting and stitch. This  creates depth, perspective and richness to the work and combines effectively with stitch to give detail and texture. I am currently creating more hand stitched work and enjoying the slow meditative process this brings.
Drawing on the natural world for my inspiration I see colour, texture, pattern and rhythm everywhere I look. Australia is a country that has a rich diversity of scenery. The rolling hills of Victoria, the bush, amazing reds of the interior and the wonders of the coastline. Add into this mix of imagery the four seasons, with spring and summer flowers, autumn colours, winter bareness and the inspiration for me is endless.
I am not primarily a photographer but my photographs are invaluable to me as a record of composition, colour and detail, supported by my sketches. I cannot work from life, with an electric machine as my drawing tool. Photography has to be my starting point as I explore my subject matter directly on to my fabric, drawing and painting with threads.
What draws you to your medium and where/how did you refine your skills?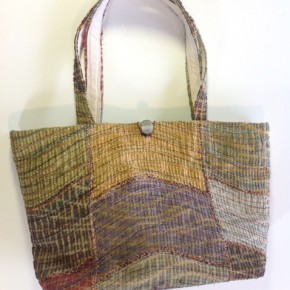 I have always loved textiles, in my teens I sewed my own clothes to create different and individual items.  I also learned to spin and would give the yarn to my mother to knit into wonderful cardigans and jumpers.  
In my late 20's I started to explore my love of the landscape through the medium of embroidery finding it the perfect vehicle to express the colours, textures and shapes I find so fascinating. I try to combine in my compositions a sense of light and an interesting juxtaposition of colour, shape and texture. I aim to capture moments in time as an artist who has colour, line and texture to play with. I consider myself a painter that uses threads, an artist that draws with a sewing machine.  Over the years I have refined my work through many hours of stitching.
Your website has a distinct focus towards sustainable art. How important is it to you that your work reflects a sustainable practice?
For many years I worked in sustainability and energy efficiency. I believe that if each of us can make small changes to our lifestyles we can contribute enormously to changing the current decline of our planet. As our Government show a complete neglect in facing reality it is up to us as citizens to make the changes and influence others through our choices.  The choice to think twice before a purchase, buy less, repair more and recycle are options for all of us. In our homes it is now so much easier to use low energy lighting and appliances, to turn off appliances not in use and to be conscious of our use of resources.
I love the Slow Clothing project instigated by Jane Milburn at Textile Beat http://textilebeat.com/ . Which is a social enterprise inspiring a creative approach to the way we dress, through slow clothing. 'We believe in ethical, sustainable choices that don't harm people or the planet. We want to know the story about where clothing comes from and we believe in care and repair, refashion and restyle of existing clothing using old-fashioned home-sewing skills.'  I have contributed to this project http://textilebeat.com/a-meditative-process-tamara-russell/
What themes do you usually pursue?
The theme of my work is generally landscapes.  I tend to take a lot of photographs and then create from my favourites.  However at the moment I am creating hand stitched works using as my inspiration some of the wonderful NASA photographs of space.
Who are some of your biggest influences?
Carol Naylor and Linda Behar.  I saw their work whilst still living in the UK and loved their use of embroidery in a more contemporary way.  From Carol Naylor's work I discovered that my sewing machine could produce art not just homewares and clothing.
How did you get involved with Colour Box Studio?
I was forwarded an email a few years ago about a workshop being held. I was unable to attend at the time but was invited to the opening of the Colour Box membership program and joined on the night.
From a creative business perspective, which platforms do you feel are most valuable in connecting with your followers and customers?
I currently use my website as the main selling platform. I used to sell at markets in Canberra but after an accident this is now difficult. I also use Facebook and Instagram which I love as there is so much wonderful work posted.
I also run www.CreativeMoreland.com.au which is a website for creatives living and/or working in Moreland where I regularly post opportunities for creatives. I enjoy the opportunity this gives me to meet some amazing artists and craftspeople creating nearby.
Where can we find you online?
Social Media: Facebook | Pinterest | Instagram | LinkedIn
Your work is currently on display at the Brunswick Street Gallery as part of the Small Works Art Prize – can you tell us about the piece? Was it an existing work or created specifically for the competition. If so, how do you think this influenced your creative process?
My work in the Small Works Art Prize are entitled 'They sought refuge'.  I have 3 pieces in the show, 2 wall art pieces which are hand stitched. Each stitch in one (round stitching) represents the men and the other (square stitching) the women and children who were in on and offshore detention in February of this year. The third piece is sculptural and represents the seasons passing whilst the Australian government leaves people seeking refuge in our country imprisoned.
These pieces were created for the Art prize. They were influenced by my dismay at how both of the main parties in Australia have created policy which treats people seeking refuge from horror in an even more horrific way. I believe that we should welcome asylum seekers and refugees as in the majority of cases they have so much to offer.  Let us live in a healthy, happy place where all are welcome and can share the wealth of this country. The majority of Australians are decedents of people who were looking for a better place to raise their families for one reason or an other so why are we blocking others from the same dream.
'Treat the Earth well. It was not given to you by your parents. It was loaned to you by your children'
– Kenyan Proverb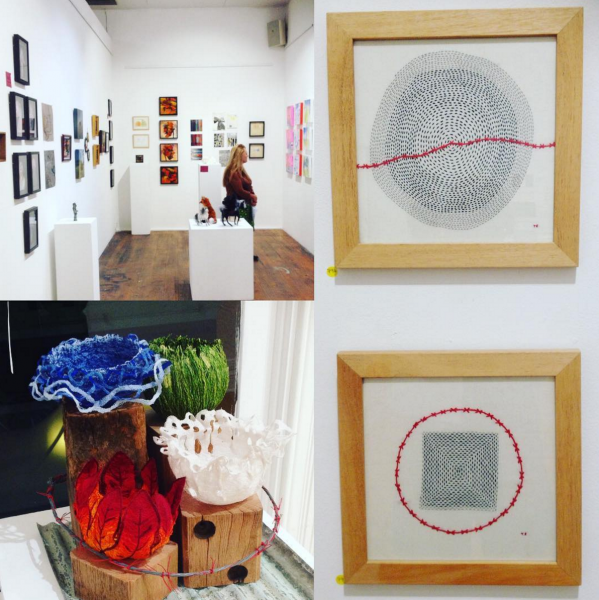 ——
You can see Tamara's work at the Small Works Arts Prize at the Brunswick Street Gallery until the 4th June 2016. You can also find her work online.
Promotion for your work, exhibitions and projects is one of the many perks we offer our members! Find out how you can join the Colour Box Studio Membership Program!