By Nuala Kane
My job is all about ideas and intangibilities so the idea of realizing concepts, actually making concepts into real things, is sort of wonderful and strange to me. Last Friday I was lucky to attend the opening night of
Colour Box Studio's Summer Pop-up Shop
and to talk to some of the designers about their wares. I was curious about the difference between design and art: a friend of mine is studying textiles in Edinburgh, and one of her teachers opened a lecture series with the statement, 'designers pleasure their partners while artists masturbate in the mirror'. Shy to share this, I figured on Friday that design seems to be all about how the object interacts with the person – jewellery is wearable, greetings cards are giveable, lamps will light up your kitchen or bedroom or study – and the end, the reality, will certainly justify the means. As a contrast I am becoming acutely aware of how writing stays in the unreal form, words flat on the page, and I envy these people who create these things to touch and wear and smell. Here are some of the designers who took time to speak to me about their work: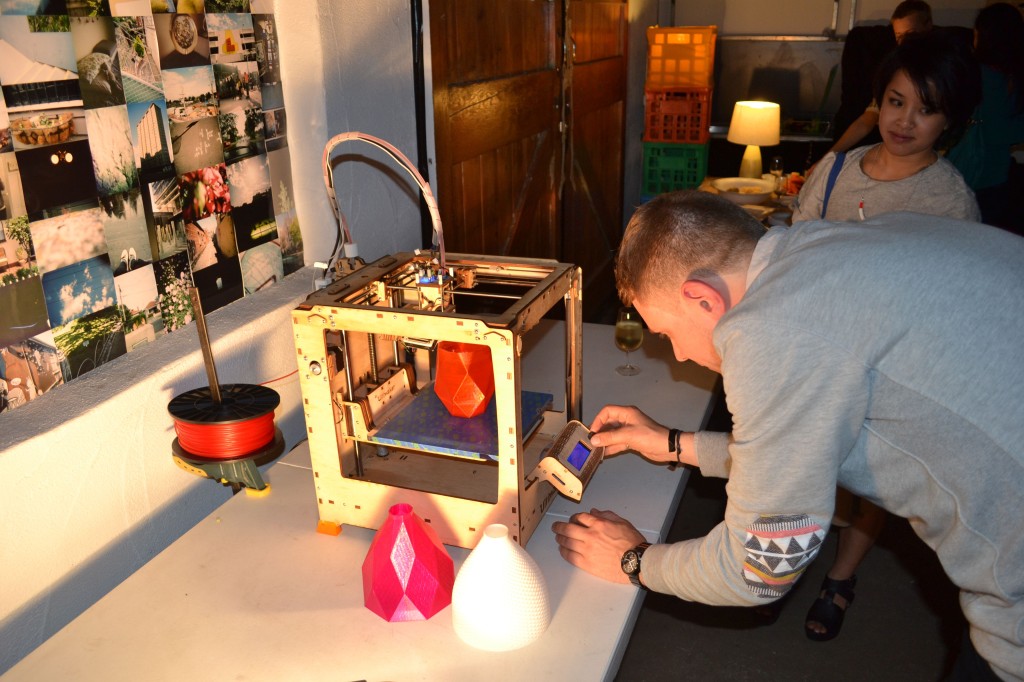 Batch
Batch bring their 3D printer to Colour Box for show and the dashing designer explains it to me at a too technical level and I have to say 'No wait, more basic' and here is what I garner as he kindly simplifies.
Three-dimensional printing involves laying down materials in layers according to a precoded design to create a prototype or product. Here the printer itself is crate-shaped with a sewing machine top and a neon vase growing within – it's a kind of masculine womb. The hot plastic goes in and pours out in a thin stream, and like a spider on a mission it spins a cobweb into a vase, and the platform drops three millimeters per minute, and slowly slowly the layers build up until something comes from nothing before your eyes. He says that I can touch it so I stretch out one cautious finger, aware of the warning burns on his arms, and surprised when the vase surface is only lukewarm to my skin.
The finished products are slim and elegant gold and pewter-coloured rings and necklaces that are printed in New York, while the plastic trees and balls on the display table are made by the printer in the back studio. The idea behind Batch is that rather than having a single expensive machine producing thousands of identical products in order to return its price, one 3D printer can create numerous different products as individuals or small batches. It seems to lend itself to divergent rather than convergent thinking, and doubtless there are numerous ethical and economic sequelae too.
Three of the four from Studio Batch are trained in industrial design (Tish comes from a fashion design background) and I get to learn about the spectrum from urban planning to architecture to interior design to industrial design, which seems to go from bigger to smaller concerns, or from abstract to the more concrete. All involve turning ideas into tangible things, but I am told that industrial design allows more scope for working with your hands. As we talk, my friend tries on a ring, and Ilya says 'I cast that' and is excited, and I love that, that from a code on a memory card you can make something for people to wear on their hands, it's intimate somehow, and real.
KIRRI-MAdE
Kirri-Mae's card names her a 'designer and maker' and this is something I like immediately because 'make' is a simple word that I can understand. At the moment Kirri makes necklaces of knotted fabric in macramé style, in polycord and jersey, in a multitude of colours. She tells me that macramé was all the rage in the seventies, and that her own mother lost no time in telling her how she herself was once an expert (a hipster statement if ever there was, I can't resist pointing out). Kirri's story about how she started on macramé is as unique and opportunist as the Melbourne weather. As she talks, she twists a skull-shaped resin ring on her finger. Originally from Queensland, resin was her craft, and according to Kirri it suited the humid tropical lifestyle. She used to work outdoors, hands dipped in water, eyes behind plastic goggles, bathed in sunshine. The move to Melbourne necessitated a shift to an indoor pursuit, so she learned how to knot, employed a sustainable ethos in reclaiming dresses, created these beauties, and ultimately (as we all learn to, if not with Kirri's style) she adapted.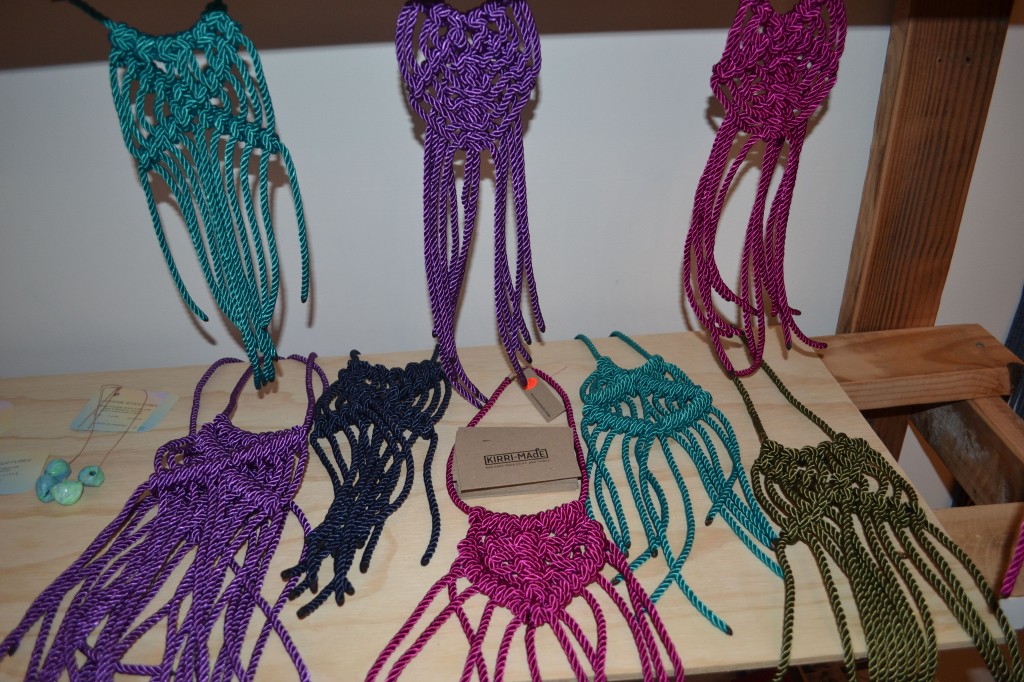 Milk and Cookies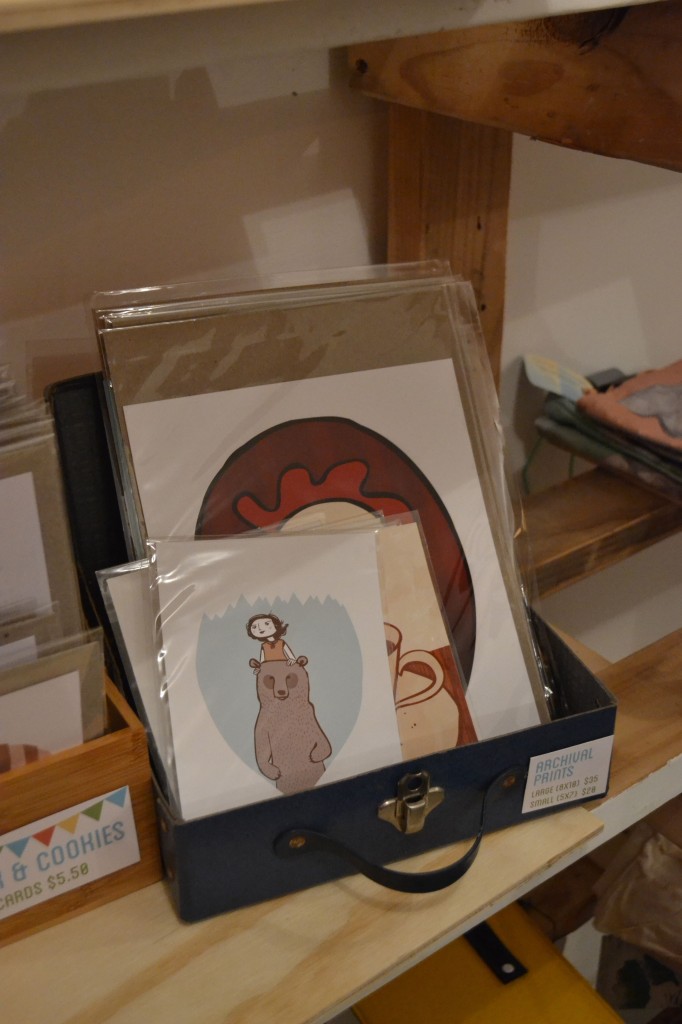 The first print that catches my eye is a Lyra-like little girl sitting fearless atop a great bear. Melbourne-based illustrator Tali tells me the story of an American hiking trip where she found herself frozen in terror, a black bear only five metres away. I remember reading conflicting advice for that kind of situation, and I share them (somewhat late, in a Footscray shop): stay still, play dead, climb a tree, make as much noise as possible, stare the bear down, and AVOID EYE-CONTACT AT ALL COSTS. In Tali's case the bear turned and ran, and lucky for us, because her evocative illustrations seem to hold whole magical stories behind each page. There is a teddy holding a balloon, a fat batman, a chick with an egg-shell bonnet. 'They are not all stories', she says, and I turn to the greeting cards, my favourite being the talking sushi (you are the salmon in my nori roll), and I get the sense that some of these stories have yet to be made.
Aacute
The Aacute sisters introduce themselves as 'Julie for jewellery and Kelly for candles: if only it was Kelly with a C', and this K must be the sole tiny flaw in their marketing campaign. Already approached by Vogue to advertise their products, their slick branding and timeless style is inspired by Converse. The scented candles and geometric beaded jewellery are boxed prettily in simple cardboard. The candle wax is made of soy, which unlike paraffin is soft on skin, the wood wick burns longer, and on burning out the candle can be refilled for a cheaper price. At this stage of its success, Aacute is 50% creativity and 50% business, and luckily the sisters have backgrounds in science/ illustration and accounting/ psychology, which lends a pretty diverse skillset. As the evening comes to a close, I spy that they have already approached fellow designers for a collaborative piece, and I get the feeling that not much gets past these two. Oh, and the maple pumpkin bread candle smells truly edible.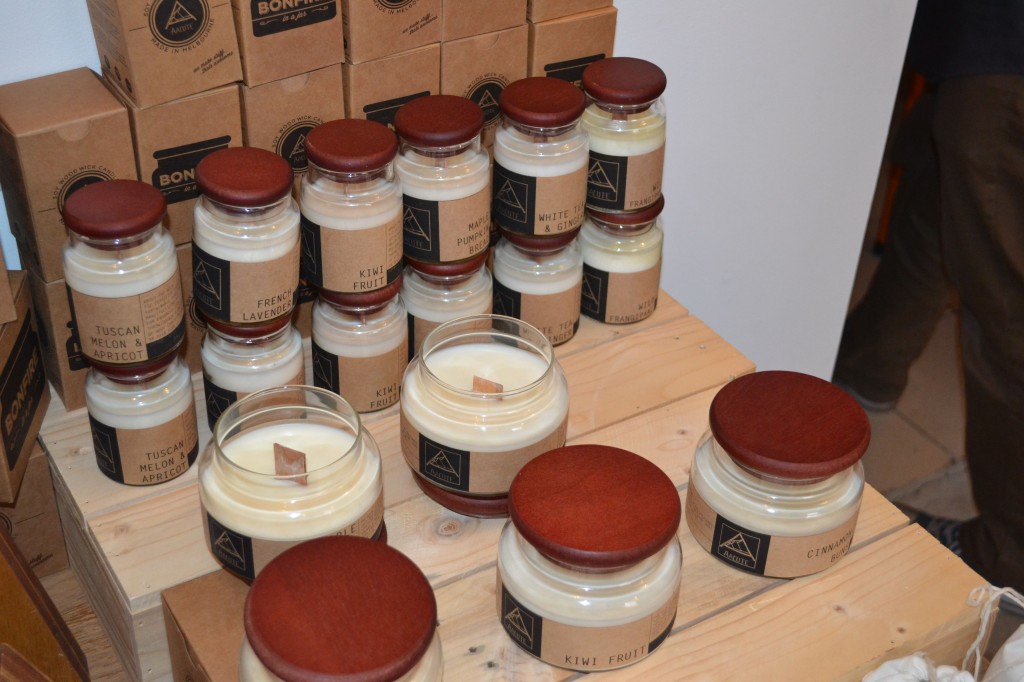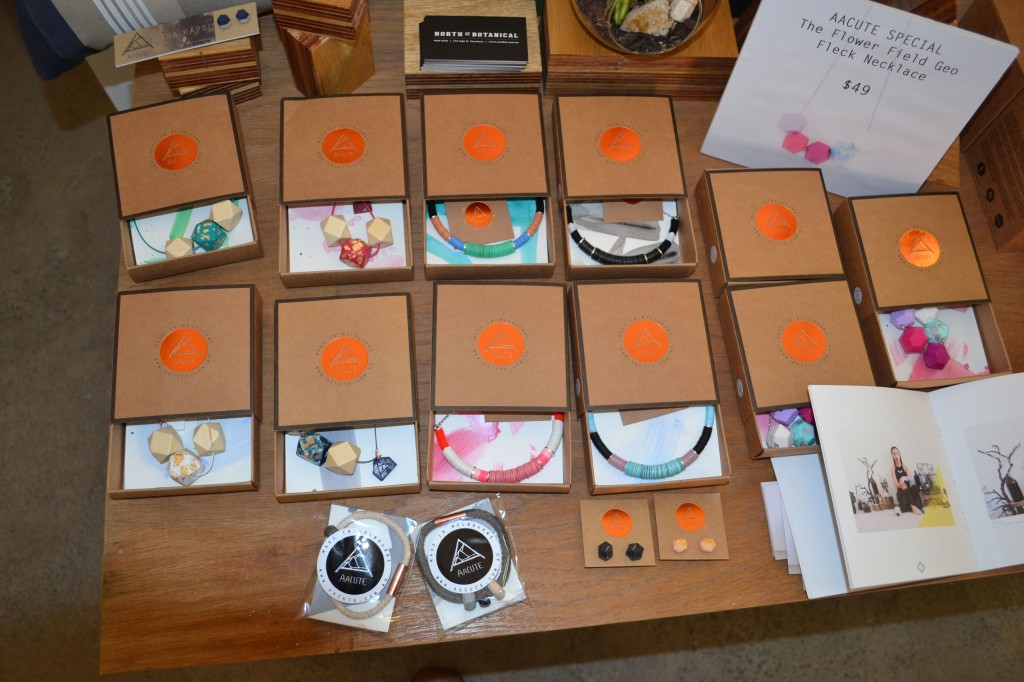 Studio 941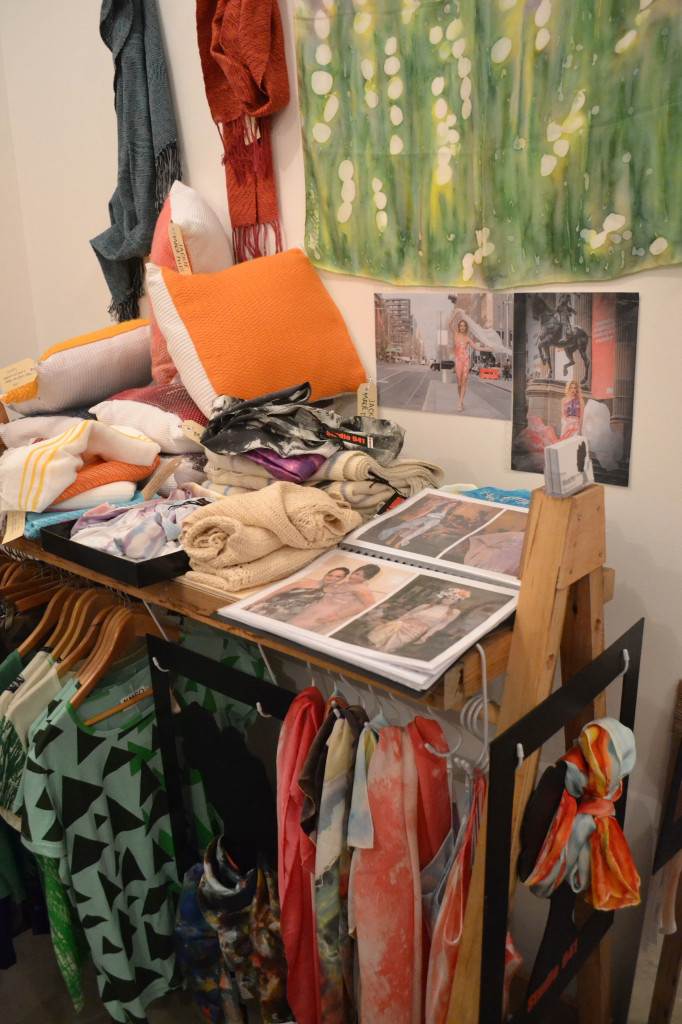 Ida Suod was an architect with a passion for silk painting. Now she is a full-time designer who paints onto silk directly or from acrylic, for her own scarves, chemises, and the clothes of local fashion designers. She shows me different pieces with different meanings and memories that she has collected from her travels in Australia. One is 'Fairies in Darwin' – she was travelling in the desert for too long when all of a sudden she happened upon the tropics, and in Botanic Gardens at dusk in Darwin she saw tiny flowers dancing brightly like faeries. This impression became a beautiful green and cream and violet scarf. Wearable art has a dynamic quality, and the silk flows so easily that you can see the dancing. Another, 'Breathing Autumn Smell' comes from a time when she used to sit on the banks of the Yarra River and enjoy the tranquility of the water as the city bustled by. In a third, 'Lulu's Thoughts', she sits in a cave in a national park and looks out on the vast expanse beyond. For this one she has painted directly on the silk and the lack of setting agent lends recklessness to any borders as the paint spreads beyond the confines of the idea, and reality, it seems, gets the last word.
Photos by Astrid, with thanks.
—————-
Colour Box Studio Summer Pop Up Shop
236 Nicholson St, Footscray
OPEN: Tues-Fri 12-6pm, Sat & Sun 11-4pm
Open until 21 December 2013 & Showcasing over 20 Melbourne artists/ designers/ makers.
HOW TO GET THERE | MORE INFORMATION | CONTACT