The Colour Box Studio Public Art Program exhibits contemporary public art, mixed media and ephemeral installations in our Alleyway and Courtyard Space and street art and painting on our Courtyard Walls. Public Art Program Coordinator Shae Rooke  believes the program provides great opportunities for emerging artists to exhibit their work in an alternative space. Shae took the time to answer some questions about what artists can expect from taking part in the program.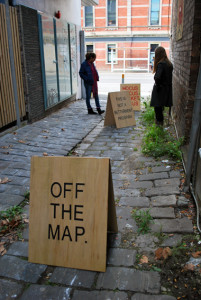 What is the Colour Box Studio Public Art Program?
 The Public Art Program is a series of exhibitions happening in public spaces around Colour Box Studio, including our alleyway and courtyard.
What spaces are available?
Our main exhibiting spaces are The Alleyway which focuses on installation art, ephemeral art and sculpture – this is my favourite space. We also have the Courtyard Install Space for street art, painting, installation or sculpture, its a cute little space about 2.2m x 6m with a wall on one side. Then there's our Courtyard Wall, which is the backdrop for our stage and is predominantly for street artists. It's a high profile space, every time we have an event with bands or performance that wall gets in the photos!
We also love artists to come and visit the space and propose alternative projects for any part of Colour Box Studio including the windows, the façade of the building, the bar, projecting or screening video or secret hiding spaces in the courtyard.
What kind of mediums can artists use? 
We have no restriction on mediums. In the past artists have used mediums ranging from found objects, signs, paste-ups, stencils, performance and graffiti.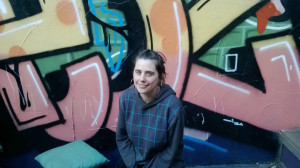 What projects are coming up next?
We have two exciting projects opening on Tuesday 6th August at 6pm, a new public art work 'Façade' by Aliça Bryson-Haynes and a performance in the courtyard by Phil Solimon.
Aliça's work, 'Façade', will use woolen blankets to transform the façade of Colour Box Studio into a colourful, minimalist painting. Aliça is interested in the relationships between materials, surface, scale, and architecture. She shifts the 'known' qualities of the materials through their unexpected placement, modification and repetition to elicit a sense of wonder and surprise.
'How to be a good Egyptian' by Phil Solimon is an interactive performance and installation in Colour Box Studio's courtyard, part of which will be transformed into a busy Cairo street. During the performance, the artist will serve traditional Egyptian street food, cooked by himself according to instructions given by his grandmother over the phone. The work explores the importance of food and hospitality in Egyptian culture, the current social and political situation in Egypt, and the artist's complex relationship with his family.
'Façade' and 'How to be a good Egyptian' are a part of 'Present Present Present' an evening of public art, performance and book readings.
What will artists get out of exhibiting their work at Colour Box Studio?
Our public art program provides unique, alternative spaces to exhibit in. We offer opportunities for emerging artists to exhibit outside the white cube. We assist artists with promotion including contact with local media, our website and we are all over social media including facebook and twitter. We interview each artist on our blog and try and combine exhibition openings with multi-medium events, such as gigs, book readings, performances and workshops to give artists the most exposure as possible to a diverse audience and a super fun opening.
 Exhibiting artists also become members of Colour Box Studio, what are the benefits of membership?
As a community arts hub, we differ to many spaces in that instead of charging a fee to exhibit, we ask them to become members. Membership costs $55 and entitles artists to a whole range of benefits. This includes a creative profile on our website, VIP invites to members networking nights, access to the CBS Pop Up Work Hub (with free WiFi) and the opportunity to facilitate workshops at Colour Box Studio. Members also have access to exclusive giveaways and discounts to local stores and cafe's. Members also receive a VIP invite to 'Throw Up Your Art' a popup one-night exhibition at Colour Box Studio in October. 
How do I exhibit in Colour Box Studio's Public Art Program?
To exhibit with the Colour Box Studio Public Art Program, artists submit a proposal using our online form. We try to keep it as brief as possible, asking for a description of the proposed project, relevant images and an artists CV. We base our selection on the quality and viability of proposed project. We are looking for exciting innovative projects! The form can be found at on our website at: www.colourboxstudio.com-public-art-program