The Colour Box Studio team is running a 7 week Pozible campain to raise a minimum of $7000 (but we dream of reaching $12 500) to go towards all costs of running our next 6 months of programs.
Check out our Pozible crowdfunding campaign and pledge to support us here:
http://www.pozible.com/colourboxstudio
A Community Creative Hub – Colour Box Studio from Colour Box Studio on Vimeo.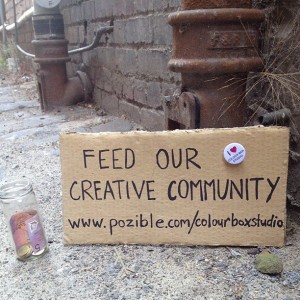 For the last 5 and a half months, Colour Box Studio has been reliant on 100% volunteer effort (and this we are truly grateful for).  When founder and directorAmie Batalibasi got the keys to 236 Nicholson St, Footscray on 1 October 2012, the building was a tattoo parlour – now, after an amazing display of community coming together, it's Colour Box Studio.
We've showcased the work of over 40 Melbourne artists and creative people; we've created income for over 40 Melbourne artists; we've held 4 free community based events; we've enabled 15 artists to facilitate workshops, share skills and make an income; we've bonded with an amazingly generous team of volunteers; we've built a wonderful community 100s of people who support the space and engage with us online & offline (that's you!)…. All of this, in 5 and a half months!
Colour Box Studio is 100% volunteer run … We rely on community support, honesty, generosity and community spirit. To keep on supporting our creative community, we need your help.
To pledge and receive rewards like Colour Box Studio Membership, Hannakin illustration prints and more… see the link below:
http://www.pozible.com/colourboxstudio