Hanna Mancini of Hannakin has been involved with Colour Box Studio for a few years now, with her fairytale-style illustrations, prints and cards having been featured at several Colour Box Studio Pop Up Shops and other events. We spoke to Hanna about her creative projects – from colouring books to felt brooches to dolls and more – and how her childhood adventures in rural Victoria inspired the curious characters and themes in her creative work. Check out Hanna's work at the Colour Box Studio Spring Pop Up Shop, on till November 4.
Tell us a little bit about yourself and what you do.
I paint whimsical watercolour illustrations, hand sew little wool felt brooches and one of a kind art dolls and make an array of bits and bobs for my creative label, Hannakin.
How did you start your creative business/arts practice and why?
I have been creative all my life, and Hannakin started as a little stall at a small market in 2010, but slowly and organically it grew and blossomed into a fully fledged full time creative business. I always knew I wanted do to something creative in my "job", and thankfully I've been able to slowly figure out a way to make that work for me.
Where did you grow up and has it influenced what you create?
I grew up in Hepburn Springs in rural Victoria. My house backed on to an incredible gully called Breakneck Gorge, with a little creek running through the bottom. Me and my brother and our trusty retriever Ruska would spent a lot of time running wild in this "wilderness", and now strange adventures, imaginary beast friends and fantastical forests are a common theme in my illustration work..
What is your current project?
For months on and off I have been working on creating my first ever colouring book. It has just been completed and is hot off the presses, and already it has been really popular, so I'm really pleased.
My main focus for the next few months will be 3D hand sewn soft sculpture work.
Who or what is your inspiration?
I have so many inspirations in every facet of my life that sometimes it's difficult to pinpoint it exactly. I am regularly inspired by conversations with friends, the way the light hits the clouds, animation, song lyrics, dreams and hundreds of artists that I follow on social media! My favourite artist of all time is author/illustrator Shaun Tan.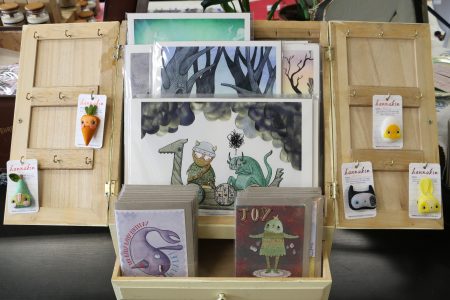 Where do you feel most creative?
I find inspiration can strike at any time (often inconvenient ones!) so I always bring my sketchbook with me wherever I go to scribble down little ideas wherever I am. However, I probably feel the most creative in my little home studio with a podcast on surrounded by scraps of felt and paper.
What can visitors expect to see from you in the Colour Box Studio Spring Pop Up Shop?
I'll have archival art prints of my illustrations, greeting cards, and little hand sewn wool felt brooches.
Where can we see more of your work?
on instagram @hannakinart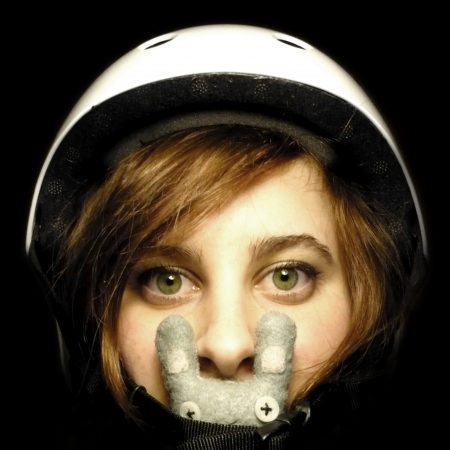 Find Hanna's prints, brooches and cards as well as work from other local makers at Colour Box Studio's Spring Pop Up Shop located at VU at Metrowest in the heart of Footscray.
Where: VU at MetroWest, 138 Nicholson Street, Footscray, VIC 3011
Open: Tuesday-Friday 9.30-5pm, Saturday 10-4pm
Dates: 7 October – 4 November 2016
Getting there: 5mins walk from Footscray Train Station and Tram Stop, limited on street free parking, paid parking available at Footscray Kmart.
Find more information here.