Kinga hand-makes beautiful beaded Kumihimo Jewellery, a style which originated from Japan. Kinga has always had a passion for the arts and dabbled in different crafts but it was not until she retired that she fully embraced this passion and started and selling her brightly coloured bead jewellery. Find Kinga's jewellery pieces including earring and necklace sets at the  Colour Box Studio's Spring Pop Up Shop running until the 4th of November. Find more details about the Pop Up Shop here.
Tell us a little bit about yourself and what you do.
My name is Kinga and I have retired from my full time job to concentrate on my passion in arts and crafts. Since my retirement I have been involved with many arts projects togrther with other artists as well as on my own and have been dealing with many types of media. I currently run my own business as KingasArt and the majority of my work is for stalls at several markets selling my hand made Kumihimo jewellery.
How did you start your creative business/arts practice and why?
Throughout my life I have dabbled in all types of arts and crafts and colour has always been fascinating. After painting, designing, sewing and trying all types of arts and crafts, I took part in copper art and became serious about it by setting up a stall at the Esplanade in St Kilda. I created thousands of pictures and furniture attachments and started also painting in with the copper art.
Where did you grow up and has it influenced what you create?
I was born in Hungary and grew up with my father who was a painter so I have been taught from an early age about visions and colours. He explained the meanings of coulours and how to look at everyday views and to appreciate them. Hence since then I have always looked at the beauty of nature and not taking visual arts for granted. Colours became my passion showing our feelings in our every day life.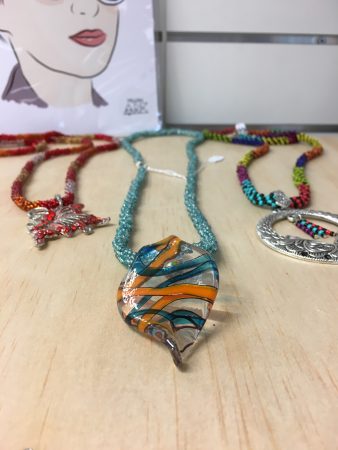 What is your current project?
I am currently involed in selling my jewellery in the Dockland Sunday Markets as well as in other pop-up stalls in Williamstown and Footscray. I am currently setting up to sell my work at a big market in Bacchus Marsh at the Cherry Picking Festival in November. I am also in progress of designing my work for the RED festival in Werribee in December which involves my own art work together sharing with other artists in the Wyndham area.
Who or what is your inspiration?
My inspiration comes from my family who are very supportive, starting with my father to currently with my daughter who is also very artistic. They are always there for me in the background and provide any help that I need. I have been working hard in my life and held back a lot of my love of art. Now that I have retired I am letting out a lot of my passion and motivation to create my love of art.
Where do you feel most creative?
No matter where I am, creativity pops into my mind and I can actually store it in my mind for my next project.
What can visitors expect to see from you in the Colour Box Studio Spring Pop Up Shop?
I have my Kumihimo jewellery at the Colour Box Studio Spring Pop Up Shop, with earrings attached. They are all hand made using colourful beads and accessories.
Where can we see more of your work?
If you would like to see more of my work, you are welcome to see me at the Docklands Sunday market, most of the time. There are night markets at Williamstown on the fist Friday of each month and there will be a very fruitful weekend art and craft fair in Bacchus Marsh Strawberries & Cherries Weekend on the 19th & 20th of November
Find Kingas beaded jewellery, and work from other local makers at Colour Box Studio's Spring Pop Up Shop located at VU at Metrowest in the heart of Footscray.
Where: VU at MetroWest, 138 Nicholson Street, Footscray, VIC 3011
Open: Tuesday-Friday 9.30-5pm, Saturday 10-4pm
Dates: 7 October – 4 November 2016
Getting there: 5mins walk from Footscray Train Station and Tram Stop, limited on street free parking, paid parking available at Footscray Kmart.
Find more information here.