Located in Melbourne's Docklands, The Food Court is a unique art space, encouraging experimentation and pushing boundaries for emerging and established artists. We're collaborating this month with them to bring to you our 3rd Birthday Throw Up Your Art Exhibition (to submit a work please click here). In this interview we find out about the Food Court's interesting beginnings, their future plans and having a welcoming space for artist expression and visions.
Featured image: Float by Dolation & Michele Donegan, Image taken by Nicco Redaway
Tell us a little bit of the history and how you came about as an exhibition and arts project space.
The Food Court space (before it was an art gallery) was abandoned for about 2 years after the big wheel (Melbourne Star) broke the first time -it broke at least twice! Business went bust because of the bad press surrounding the wheel breaking so the food court & other businesses left. We got access to run the space through Renew Australia & Docklands Spaces thanks to Marcus Westbury who invited artists and creatives to use the empty spaces as long as we activated them. When we applied for the space we knew we wanted to set up an exhibition/social space with a difference. The Food Court is an artist run initiative based in Melbourne's Docklands. Situated in an abandoned food court, the recycled space exists as a multi-use arts venue and project site, as well as an exhibition and screening events space.
The Food Court is open to the public 4 days a week with emphasis placed on social interaction. (Open Thursday to Sunday 12-5pm) & open some other days by appointment. As a venue that gives the public a chance to see the work of budding creatives, we are excited to be a part of the public outcome for creative endeavours that push the boundaries of contemporary art. We promote these events extensively to garner interest from the public and invite them to our various creative events throughout the year.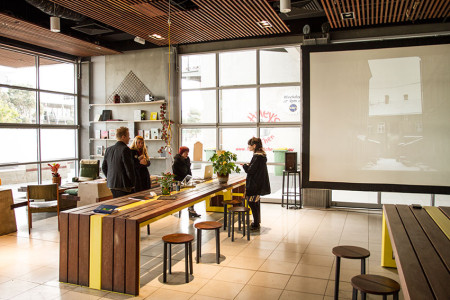 The Food Court is sort of a hidden art gem in the Docklands area, what is the current art scene in Docklands?
We used to have a little hub of art spaces which were explored during The Dock on Foot guided walking tours run by Chantel Wynter who used to co-direct The Front which was one of the art spaces we tried to line shows up with, including D11. When we managed this, it was great because audience members coming to the Docklands could gallery hop between at least three galleries on the one night. Unfortunately most of the other Docklands Spaces have since been rented out so the artists and creatives had to move on. The Lifted Brow publication above us just closed recently and Inkling across the other side of the Piazza are the last space left including ourselves. Inkling run printmaking workshops. So the current art scene in Docklands is limited to us really as we put on more public events and openings.
How does The Food Court differ from other spaces that provide for artistic development and experimentation?
We provide an unconventional space for emerging and established artists to engage in a wide-range of art related projects. We have mini residencies happening all the time. As our space is run in a more flexible way as opposed to other A.R.I's, we like to give artists having a show with us the opportunity to have extended periods of time for installing and spending time in the space leading up to their show. This time is at the artists discretion and could be a duration of anything from two days to a month, providing we don't have anything else booked at that time. We are also open to artists using the space for short term and longer term projects without a show outcome at The Food Court. These are residencies in a way too.
Established and emerging artists are welcomed to exhibit at the Food Court. The space is large and very open, do you usually do most of the exhibitions with groups of artists? If so why?
We have had a number of group shows but we have also had a fair few solo artists or small groups exhibit at The Food Court who have worked with the space really well. Group shows find it easier to fill up the space but can have less relationship to the space or Docklands as a site. As The Food Court is not a White Cube type space we give artists time to respond to it's unique architecture with the way work is installed, it's former context as a Food Court and the wider environment of the Docklands, if they wish too. We find shows which consider these issues to be the most successful and we feel the Docklands and our space is an interesting space to spend time in as an artist.
The Food Court began hosting a number of ongoing residencies this year. These artists and collectives represent a multitude of disciplines and artists from diverse backgrounds. Residencies are of no cost to artists and offer ample studio space and extended periods of time in which to develop work. By having many residencies running at the same time, The Food Court, provides a site for multi-disciplinary exchanges and builds networks between artists from disparate backgrounds.  Some of our resident artists include Kate Davis, a Melbourne based artist and educator with an interest in community engagement and sound artist Sasha Margolis.
Every Monday, the Art Circle artists utilise The Food Court and Docklands environment as a site to develop independent film and photography projects which further their professional practice and skills. Whilst working on specific projects and ideas, the artists will also have the opportunity to work with both their facilitators, and contemporary artists from the wider community. This collaboration will broaden the artists understanding and appreciation of what it means to be an independent artist in the community and provide a mutual mentorship for artists with and without disability. The residency will culminate with an exhibition at The Food Court, showing personal and collaborative projects undertaken throughout the year.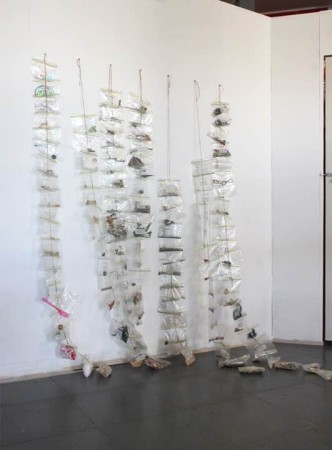 How do you interpret the artists vision when they ask for your help in installing it? Do you remember a particular significant piece? If so, why that one?
We work with artists adding our own suggestions to how they could develop their work further in the space as we know it so well!
Field trip by Melissa Deerson was a very successful residency, field trip & exhibition in two parts at The Food Court. The show consisted of data collected from a public field trip conducted in the area and an accompanying 'field guide' – a book and collection of photographs – was made which collated and highlighted participants' contributions. The exhibition also included work by Briony Galligan, Yvette King, Melanie Upton, Leo Zylberberg and Mario Campos Castellano which reflected on how nature and commerce operate in urban areas. The results come together to form a strange, idiosyncratic field guide to the Docklands and a response to The Food Court itself.
Another successful work was by Ara Dolatian and Michele Donegan, who collaborate as Nomad, designing and installing coloured woollen webs in galleries and public spaces. The designs respond to each particular site considering architecture and purpose. The webs grow intuitively and organically. Their installation – "Float"  – for the Food Court reflects the open nature of Docklands being situated on the water. The web reinvented the site by creating a sense of other-worldliness and transformed the nature of the space. The work formed a "shelter" that is reminiscent of nomads stopping and establishing a safe place for a period of time. "Float" was the largest and most challenging space Nomad had inhabited.
We also do Pozible Campaigns, how has Pozible campaigns helped the Food Court? Do you think it's important for those in the arts field?
We had one Pozible Campaign at the start so we could build a library and a few essential items like a ladder etc. I do think Pozible campaigns help in the arts field since grants and funding takes a lot of work to apply for and can be competitive to get since many artists are applying for the one grant.
How do you choose artists when they apply for exhibition considerations? 
We are pretty open to most things but they still have to feel right for the space. We look favourably on Artists who respond to The Food Court's unique architecture with the way work is installed, it's former context as a Food Court and the wider environment of the Docklands. We find shows which consider these issues to be the most successful.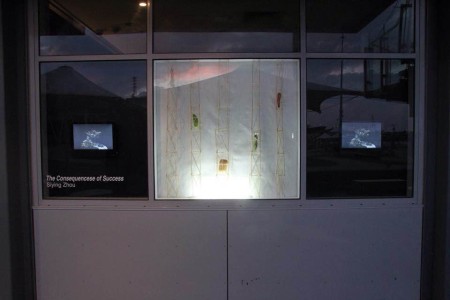 What has the Food Court improved on since it has begun? And what are you looking to change/ want to stay the same in the future?
We have learnt so much through trial and error and we have a better contract in place as well as a greater knowledge of what works in the space and how to install things with the limitations of a more unconventional space. We could still work on our structure to allow for committee members to have more of an understanding of their roles. We want to continue to be the unique space we are, different to other ARI's and galleries.
How did you guys get in contact with Colour Box Studio?
Actually I think Amie from Colour Box Studio got in contact with us as she may have been looking around on Creative Spaces for a venue for Colour Box Studio's 3rd birthday since you have become a pop-up studio. I have exhibited with Colour Box Studio before and used to go to Colour Box Studio events when you had a venue in Footscray so I know Amie & Kristina from around the traps and through following Colour Box Studio on social media and receiving the Colour Box Studio newsletter.
Where can we find more from you?
Email: hello@the-food-court.net.au