Studio 941 Silk paintings, scarves, shawls are showcased in the Colour Box Studio Summer Pop Up Shop until 21 December 2013.
Tell us a little bit about yourself and what you do.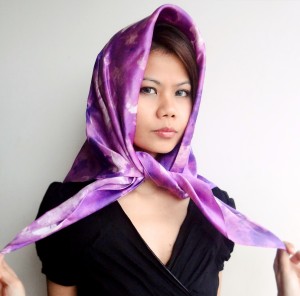 I am a Melbourne-based Australian silk painter with an extensive background in architecture, landscape architecture and project management. I make hand-painted and hand-dyed silk scarves, ready-to-wear and also I print copies of my acrylic paintings onto silk to make them into scarves, sarongs and clothings. Other than that I like to think (and think and think and think), read, paint, draw, write, sit on a Swiss ball most of the time, love yoga/pilates/circuit training, love good food, love travelling, too, and enjoy being around beautiful everything (and everyone) 😀
I also facilitate silk painting workshops and short courses both in Australia and Singapore. Our next one will be here, at Colour Box Studio!  http://colourboxstudio.com/make-a-hand-painted-silk-scarf-one-day-short-course/
How did you start your creative business and why?
I started my business because I could no longer find similar fabric and art work that I used to grow up with. I grew up wearing made-by-mum dresses and hand-painted and batik silk fabrics sold by my aunt.
Tell us about your past projects. What has been your most treasured creation?
There are so many! One of the recent ones is the last minute photo shoot with Sally McBride, Sunny Lim (CliQ Photography), Daniel Adi, Shula Kyte and Hiroko.
The photos were featured in Fashionising.com! à http://www.fashionising.com/pictures/s–Romancing-Melbourne-by-Sunny-Lim-17665-1.html
Sally, the model was wearing "Cecylia's Dream" as a top. It is one of my favourite and along with "Wittnoom Bluebelle", they will stay in my private collection.
Where did you grow up and has it influenced what you create?
I was born in Singapore from a Javanese background. I, mostly, grew up in Singapore before moving to Perth, Australia for studies and then, work. Java/Indonesia is known for batik. I am heavily influence by the memories of my grandfather who was a Javanese horse trainer and entrepreneur who moved from the island of Java to Singapore to start a business in F&B. My exposure to art and architecture through my studies and other experience all merged together to produce my creations.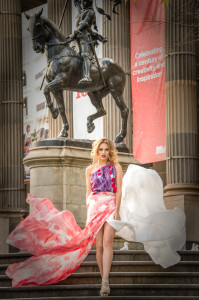 What is your current project?
I am currently working on Studio 941's next collection of scarves and sarongs and a women's wear collection. I am also working with an international team from London and Singapore to produce a special collection (top secret… hush hush J).
Who or what was your inspiration?
My grandfather. My daddy dearest. Edvard Munch. Jean Claude Monet. Coco Chanel. Tadao Ando. Warren Buffet. My grandfather's father cat, Bejo, who was very loyal and died on my grandfather's lap. He was as loyal as a dog, he would wait for my grandfather to return home from work and walked with him to the house.
Where do you feel most creative?
Anywhere; Where I am alone (mentally or/and physically).
What can visitors to expect to see from you in the Colour Box Studio Summer Pop Up Shop?
The latest collection of Studio 941 silk scarves, alpaca shawls, silk camisoles, chemise, tank tops and t-shirts! They are all one-off hand-painted! There are also the special limited edition Cruise Collection hand-dyed silk scarves that were made from using excess batches of dyes that were previously mixed when producing the main collection. We try not to waste anything or throw excess dyes down our drains. This will reduce the impact on our delicate environment.
What advice would you give to those considering starting a creative business?
Stay strong, believe in yourself and be yourself. It is a hard and long road. Surround yourself with positive people.
Where can we see more of your work?
Online – www.studio941.com.au , www.facebook.com/Studio941 , www.instagram.com/studio941 , www.twitter.com/941Suod , www.cult941.com.au
And our stockists in Balaclava, Caulfield North, Yarraville and Singapore. Check our website for more information – www.studio941.com.au
——————————
Colour Box Studio Summer Pop Up Shop – showcasing Studio 941 and other artists:

236 Nicholson St, Footscray
OPEN: Tues-Fri 12-6pm, Sat & Sun 11-4pm
Open until 21 December 2013 & Showcasing over 20 Melbourne artists/ designers/ makers.
HOW TO GET THERE | MORE INFORMATION | CONTACT