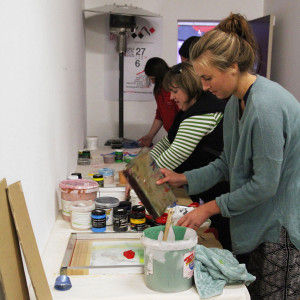 Coming up is a fantastic hands on screen printing workshop – a one day short course presented by Colour Box Studio: more info here. The workshop is run by Colour Box Studio on a regular basis and facilitated by Liz Doust of ambette – this workshop usually sells out so please book in advance.
Here's feedback from previous screen printers:
• "There is something delightful about getting together with peeps from your neighborhood to create, relax and yarn with. So far I have attended two workshops at Colour Box Studio both by Liz Doust. The first was a Card Making workshop and the second was a Screen Printing day. Liz is relaxed, inclusive and great at explaining things. I am not particularly great at art but I love that the studio is accessible to everyone who is keen to learn!"
• "Really fabulous hands-on workshop, I recommend this to anyone wanting to jump right in without too much time spent on theory. I loved it so much that I want to come to the next one!"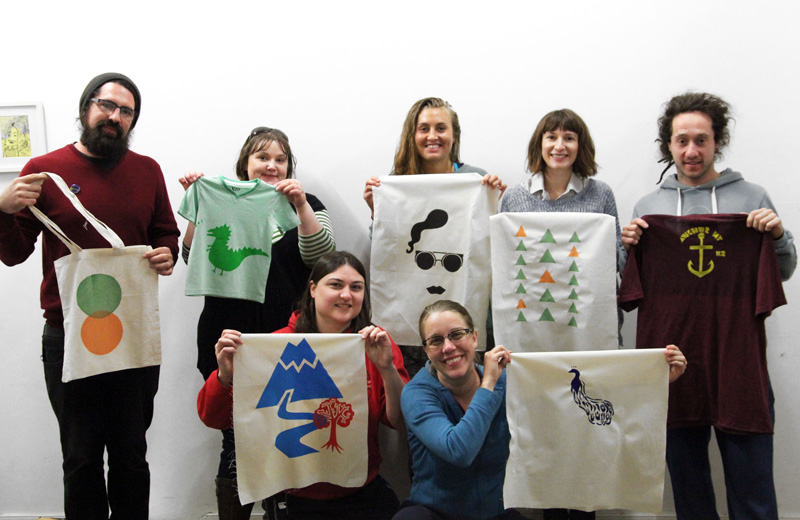 The facilitator Liz is one crafty girl! When she's not designing cases for laptops, iPads etc for her label 'ambette', she can usually be found screen-printing, teaching workshops, or studying interior design! Liz has facilitated many workshops with Colour Box Studio including screen printing and paper-cut card workshops.
ABOUT THE WORKSHOP
Come on down and learn to screen print in a day!
Spend the day with Liz, getting your creative groove on – you'll learn some screen printing basics before designing your own artwork to print, turning your artwork into a stencil and then finally printing your awesome design onto fabric. Don't worry if you don't think you have any artistic talent – even super-simple geometric shapes look really effective printed onto fabric. Anyone can do it – you'll surprise yourself!
Basic fabric is provided, but participants are welcome to bring any other specific fabric they wish to print on, or they can also bring their own blank t-shirt, apron, tea towel etc to print on.
This workshop is lots of fun and you'll walk away with the skills to start screen printing on your own: more info here.