By Ashley Tarleton.
"Come see Footscray in a different way.
"Through projections, through buildings, through windows, through unlikely spaces," encouraged the Curator of West Projections, Chantal Wynter.
West Projections, a projections festival, constitutes six nights of video displays to be showcased at seven venues throughout Footscray. The screenings will occur from 6-9pm on the 5th, 6th, 7th, and 12th, 13th and 14th of June.
Eleven artists are engaged in the festival and will showcase videos that offer personalised commentaries on what it is like to live and work in the west.
The event was developed by Chantal Wynter, a Melbourne-based artist and co-founder of The Front and On Foot, as a way of harnessing recognition and generating hype behind west-based artists and artistic spaces.
"In the western suburbs [artistic] exposure is less," Chantal said.
"I want people to see what artists are producing in the west.
"Hence, West Projections."
With the confirmation of a Maribyrnong City Council Art & Culture Grant in January, Chantal was able to transform her idea into a reality. By contacting people through existing networks and initiating consultations, Chantal was able to recruit a range of talented west-side artists and galleries to be involved.
Chantal knows firsthand what it's like to promote and orchestrate an exhibition and has used her knowledge and experience to develop a festival that will accommodate the masses. In this way West Projections is sure to attract a mix of local people and people involved in the arts.
"I'm trying to do something a little different," said Chantal
"I also wanted to give it a night time perspective to show that Footscray is a safe area."
People will have the opportunity to download a map and take themselves or they can sign up to one of the 'art crawls'.
West Projections is an extension of Chantal's work at On Foot, which sees her host art crawls between galleries in Footscray. On Foot was initiated last year in June and carries out art walks every month to two months.
"It [On Foot] has been really successful," she said.
Chantal emphasised that art walks are a great way for everyday people to counter the intimidation that can come with exploring creative spaces.
"People like to be guided, to have that insight," she said.
"It's more of a personal approach.
"People find places they had no idea existed."
Chantal will host two art crawls throughout the West Projections festival. The art walks are free and will take place on the 6th and the 14th of June, however RSVP is essential. They will start at 6pm, each night, at Trocadero Art Space, with the walk on the 6th set to wrap up at Ruffian Gallery, which is the site of the official launch party.
"There will be live music… a bit of a party really," said Chantal.
Anyone and everyone is invited to come along and join in the fun.
There will also be artist talks following the art crawls. In these sessions artists will have the opportunity to talk about their work.
While each artist's work reflects what it is like to live and work in the west, it would be inaccurate to assume the festival will abide a cohesive set of perceptions or insights.
"It's quite eclectic," said Chantal.
Shae Rooke, a contributing artist and former volunteer Public Art Coordinator at Colour Box Studio, said "the art work is diverse".
Each artist's attitude of the west "comes out in quite a lot of unusual ways," she said.
Shae jumped at the opportunity to be involved in West Projections, calling it "a great opportunity."
"I really love projection festivals," she said.
"They're a great way of lighting up the city at night."
Shae's own project, titled MicroCosmic, will be exhibited at Ruffian Gallery and is considered to be "more whimsical" than other works she has developed in the past.
MicroCosmic presents the implied viewer with a sparkling night sky, which has in actuality been constructed from puddles in a car park and cars on a busy road. The film derives "new meanings and wonder from the everyday world and also explores a relationship between people, place and cosmic space".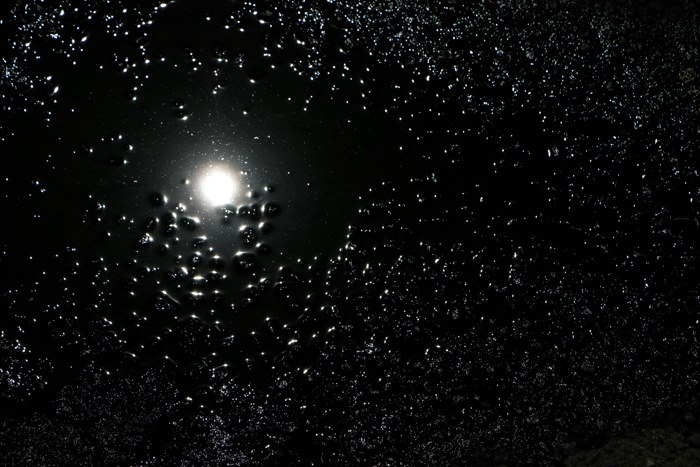 Shae's strategy for art making is to attribute beauty to benign objects or constructs that are readily overlooked in everyday life. A large portion of Shae's prior work examines constructive art space and the concept of authenticity.
"I hope it [MicroCosmic] expresses the kind of things I am interested in," she said.
"That there are lots of different ways to look at the world."
Incidentally, the original photograph that spurred Shae's work came from a ritualistic shooting exercise, taken as a part of her designated studio time. She had been walking down the street, photographing things that captured her interest when she unknowingly took the prized shot. The sun's reflection had been caught in the puddle and therein Shae recognised the potential of the image. Since then she waited for sunny days so she could catch the sun in the puddle.
"As soon as I was approached to participate in West Projections I knew it was the right piece for the project," she said.
"It's a little bit feel good.
"I felt like a little kid when I was sitting there filming it."
Originally Shae's main material was ceramics, however based on the lengthy processes she gravitated towards digital photography, and is now experimenting with video. She has been doing video for two years now.
"It was something I had been interested in for a while," she said.
"It was my old supervisor, Daniel von Sturmer, who encouraged me to do video."
When envisioning how her film will be set up for the event, Shae said that she "intends on experimenting with scale as a way of highlighting a greater distortion in reality". Shae has also collaborated with sound designer, Garth Sheridan, to capture audio recordings of the streets in Footscray at night time. Shae said the incorporation of sound gives the video a "spooky, cosmic space scape vibe".
Shae is presently working on a number of projects, including Puppetrees, which is a photography-based project, as well as another video, which records the movement of 3D holographic images.
"The video employs kitsch objects and a childlike wonder to explore illusion, fakeness and representations of nature," she said.
Shae is also collaborating with fellow artist and friend, Aliça Bryson-Haynes, on a project that is set to be presented at Rooftop Bar in Melbourne.
Like Shae, William Head, another contributing artist, is drawn to collaborative works.
"When I can work on something that allows me to collaborate I am all for it," he said.
"I love it."
William has a history of being involved in projection festivals and launched himself at the opportunity to contribute to West Projections. William curated the Digital Media Exhibition at Colour Box Studio in 2013 and showcased public video projections at the 2013 White Night Melbourne.
"I just moved to Footscray and am very keen to get involved," he said.
"This is the first time that I am aware of that something of this scale has happened around Footscray itself."
William's West Projections project, titled A Western Perspective, will be shown at Five Walls Projects, and is a time lapse of the sun rising over the city as seen from the west. The film will incorporate historical quotes "that describe the landscape as viewed in the west," and serve to bridge "today's vision of looking from the west with yesterday's perception of what was here".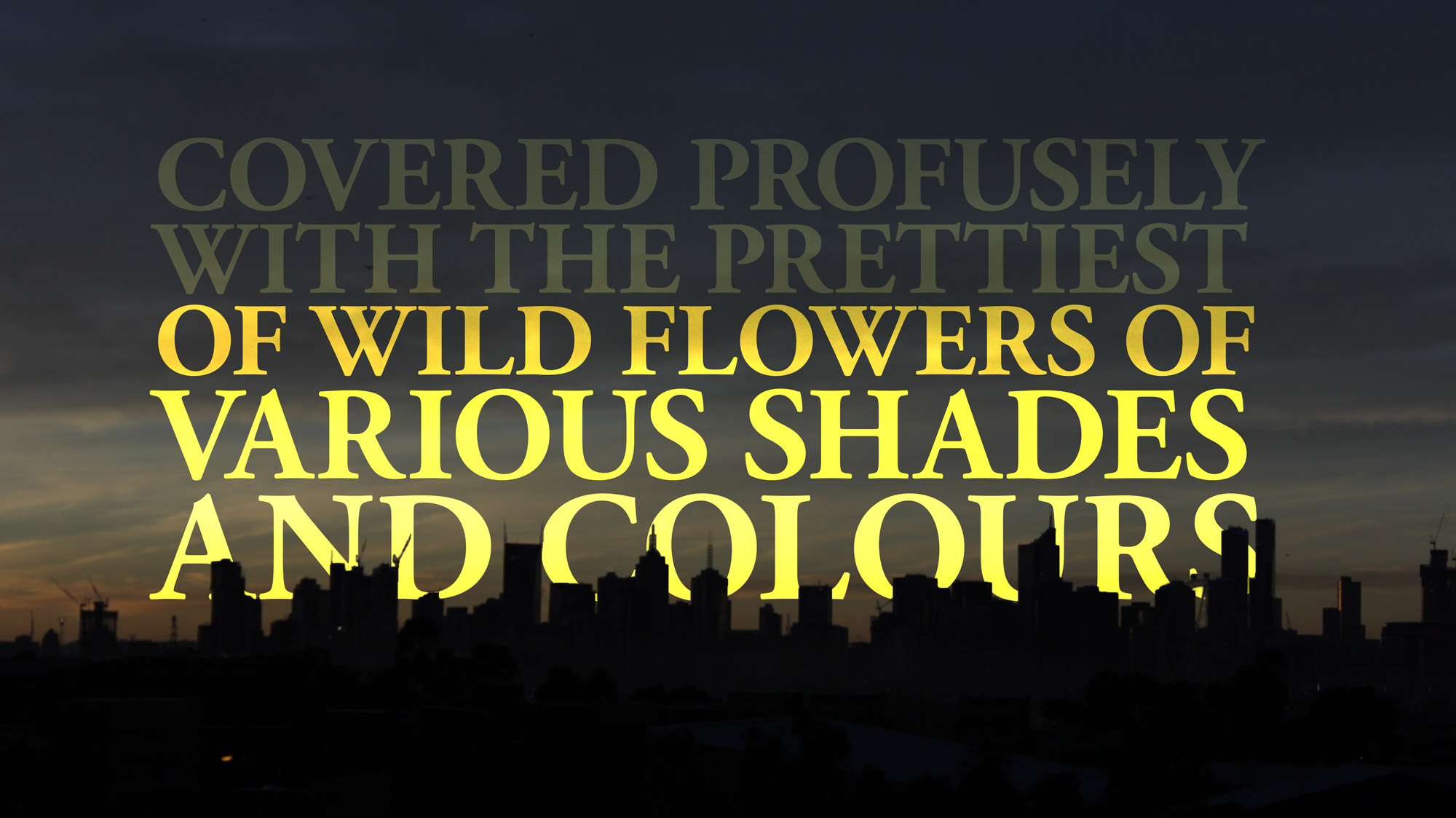 "There is a nice whimsical kind of thing going on," he said.
William's West Projection's contribution reveals his interest in the macrostructure of society, and as such gives a keen insight into the relationship between the media and the real world.
"I think it's a fraught relationship, but it's an interesting one," he said.
William's work communicates his thematic concern for the progressive world, which he in turn aims to ignite in his audience. He hopes that his work will illuminate just positions so that the audience themselves can come to a conclusion about what those just positions might mean.
"It's the idea or subject matter that's more important to me [than evoking an emotion]," he said.
William's films are well researched, engaging, unique, and vividly illustrate "the heart of an idea".
William achieves this by constantly considering the act of viewing. For this project William found himself abiding a balance between wanting to demonstrate a particular outcome, and pursue his own process of discovery.
William studied media years ago before moving on to study documentary at the Victorian College of the Arts. He then transitioned into visual arts and projection work. It is William's own emphaticness to question and explore the world around him that reveals his passion for documentary and creative non-fiction.
"It comes from a general curiosity of the world around me," he said.
"Pure curiosity."
The complexity of William's work is best recognised in his film We Are Illuminated, which follows five complete strangers who are intrinsically linked by their shared experience of the city.
"It's about the unseen world of the city at night," said William.
"It is certainly the piece that I see as my best work."
The film utilises "beautiful imagery, a nocturnal soundscape and evocative music" that takes the implied viewer on a magical journey in the city. We Are Illuminated recognises the invisible ties that bind societies' occupants together.
We Are illuminated was also recut and reimagined as a multiscreen media art work, which was presented in Albury in 2012, and exhibited on Swanston Street as a part of White Night Melbourne in 2013.
Presently William is taking on a number of assignments, including a project in Dandenong called Under an Ancient Moon, which will be released as a part of the Nocturnal Festival, while also working on a feature documentary, and planning a multi-disciplinary installation feature, named The Wilderness, that will be showcased in Melbourne's inner city. The Wilderness "aims to recreate the pre-European landscape in a Melbourne laneway using, projections, soundscapes, scents and live plants".
On top of all this William "makes his bread and butter" doing films and graphic design work for clients. He really is a "one man band freelance filmmaker and designer for hire".
As busy as his schedule is he said he would not have it any other way.
"Gotta keep things interesting," he said.
"I never get bored."
Now with the event right around the corner, the remaining artists are finalising their videos which will subsequently be installed at various locations in Footscray over the coming weeks.
"At the moment it all looks good but it's always at installation when problems occur," joked Chantal.
All in all West Projections is shaping up to be a night unlike any the west has seen.
"It's a really good way of showcasing what's happening in Footscray in the arts," said Shae.
"It involves lots of art spaces and artists.
"Everyone should come down."
The artists and galleries involved are as follows:
Trocadero Art Space – Marcello Guardigli
Five Walls Projects – William Head
Madden Square – Brendan Lee
Faux Pho Studios – Faux and Co. (Catherine Evans and Hoang Tran Nguyen)
Opp Cheaper by Miles building – Deb Bain-King
100 Story – Jess Wilson and Matt Hobson
Footscray Animated Mural Project – Christie Aditama and friends
Ruffian Gallery and Mobile Van – Shae Rooke and Katrina Channells
For more information, or to RSVP to an art walk, visit http://www.onfootscray.blogspot.com.au/ or email onfootscray@gmail.com
And to learn more about Shae Rooke and William Head you can visit their online portfolios at http://www.shaerooke.com/ and http://yaytractor.com/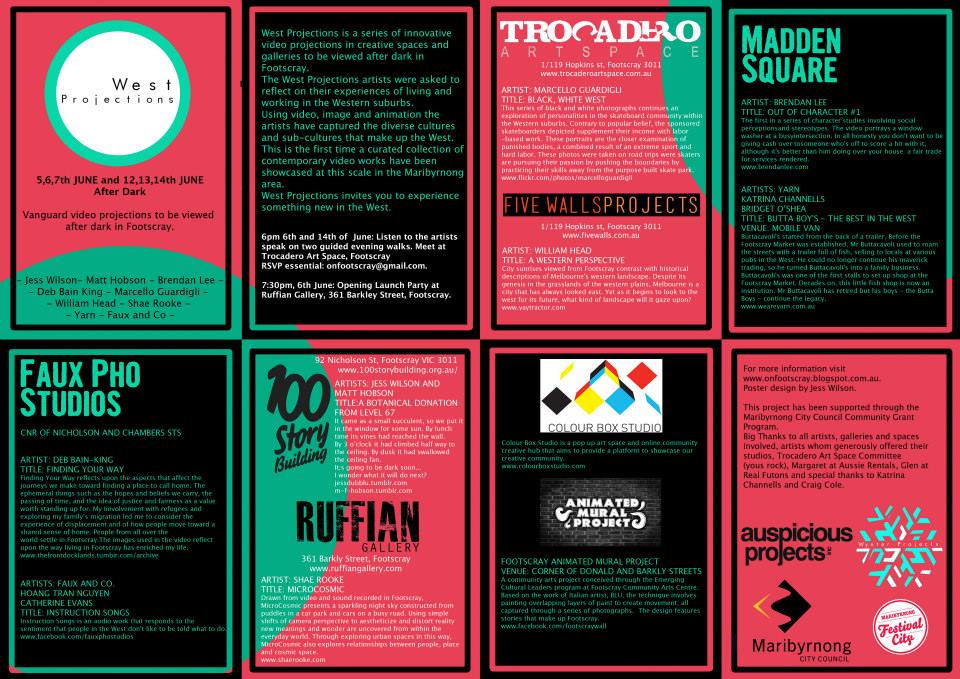 [jetpack_subscription_form]