By Jason Harris
The night before the art crawl a storm broke out. My excitement for the tour lowered as I was worried the weather could ruin the event. So I prayed to Leonardo, Raphael, Donatello and Michelangelo. No I did not pray to the Teenage Mutant Ninja Turtles (this time) but to the great art masters of old! The praying seemed to have paid off as the weather cleared up for the exciting journey to come.
The adventure began, at the legendary Trocadero Artspace.  Trocadero is arguably the heart of artist run spaces operating out of Footscray. On arrival I was greeted by the one and only Chantal Wynter, the organiser extraordinaire of the On Foot event. As we waited for numbers we were offered snacks. Now I enjoy my snacks, but all I could manage was a nice cup of herbal tea because I'm lactose intolerant. I also managed to lose this tea, as I put it down somewhere and forgot where!
The response and turnout to the event was amazing. Due to the positive reception of the event, a second tour group was arranged and scheduled to begin an hour after the first. Chantal opened the art crawl and pumped us up for the action. She then handed the stage over to Michael Brennan, who was a founding member of Trocadero and is also a well known person among the Footscray art community. Excuse me while my eyes sparkle in awe.
Michael welcomed us to Trocadero and followed up with an introductory speech. We were then free to explore the work of Michele Donegan, Caitlin Telford and Lucreccia Quintanilla.
Located within the same building and just up the hall, our next destination awaited at Five Walls Projects. Five Walls which is an off shoot of Trocadero, is headed by Aaron Martin, who is also a member of the Trocadero committee. After his welcome, we were introduced to Jenny Zhe Chang whose work Homeostasis: Yin & Yang was on exhibition. We all squeezed into the intimate space and got to know more about Jenny and her work.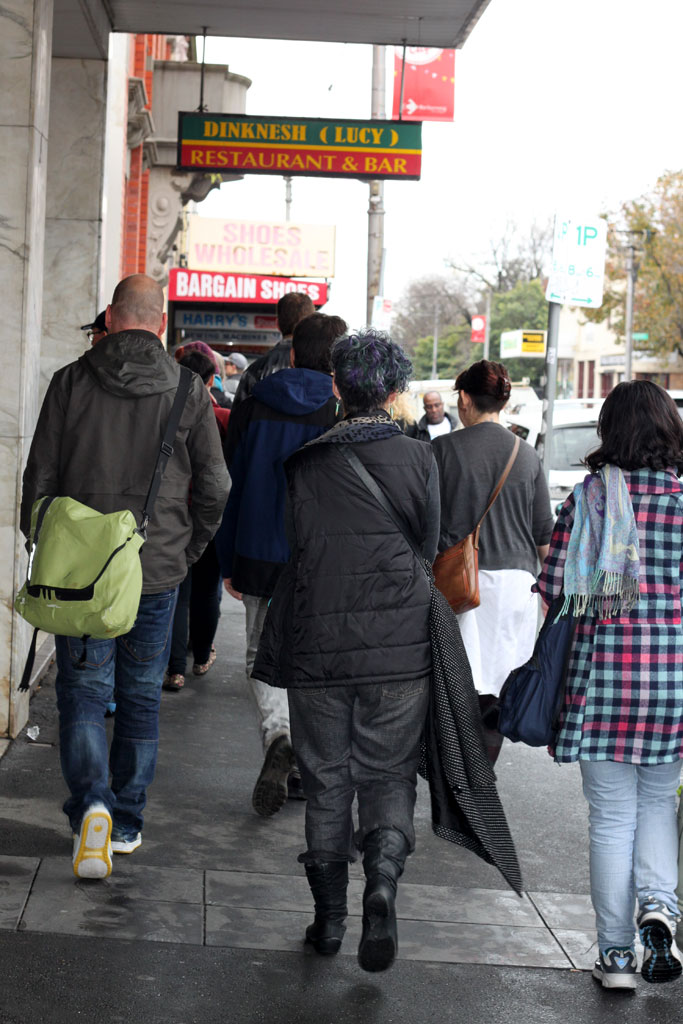 Our next destination, Bruce ARI was on the cards. We were led by a Trocadero member wielding an umbrella with a make shift flag created from an On Foot flyer. I thought 'HELL YEAH, ART POWER!' as she waved that banner proudly. I followed close behind in a prideful power strut.
Bruce ARI is an artist run space which is located in an old shopfront building. We were greeted by Kimberley Summer and got to interact with her sound installation piece. After a short improvised noise performance by the Bukkake Brothers which melded quite well with Kimberley's work, the art crawl took an interesting turn.
The group became fascinated with a bonsai garden and tea house located right next door to Bruce ARI called Sweet Grass Bonsai Nursery. Then it was time to venture forth to Knight Street Art Space.
As we were chaperoned to our next destination, we hit a temporary road block in our trip. Once we reached Middle Footscray train station, we were held up by construction work. If anything, it was a reminder of how rapidly Footscray is growing and how much redevelopment is occurring within the suburb. When it was safe for us to pass we hit our next mark.
Knight Street Art Space is an art collective and space created by former VCA students. Six of which live on premises. We met with one of its founders in his shinning armour (see what I did there?) the dashing Louis Mason. We then got an opportunity to listen to an artist talk by Alice Mathieu and see her amazing work.
Once again the art crawl took another tourist turn as Louis suggested we stop by a cafe up the street, as we were running ahead of schedule.
After some tea and friendly conversation it was time, time to experience the raw creative power that is Colour Box Studio. The best was saved for last. I happened to miss the group led by Louis to Colour Box Studio due to being the last to pay at the cafe.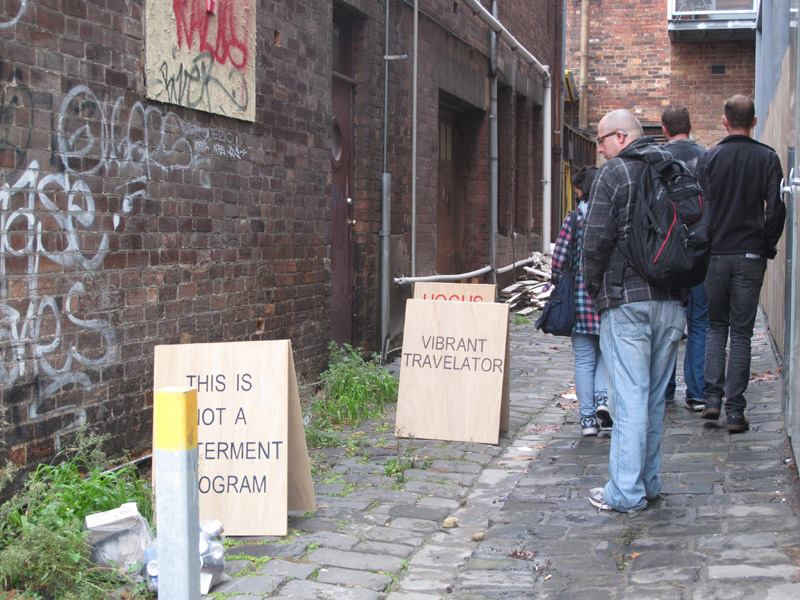 Our small rag tag group of late comers arrived just in time as Louis dropped off the group where we were welcomed by Lizzy Sampson's work Signs, located just outside of the studio. From there we headed inside and entered Torika Bolatagici's Community Reading Room space and watched a short film 'Duck Soup' produced by writer/filmmaker Kathryn Goldie while listening to their artist talks respectively.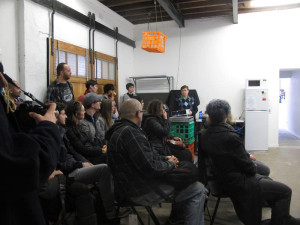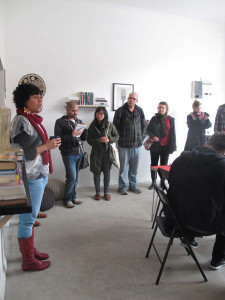 The group were then officially disbanded and we got a chance to mingle and head off to the after party at the Dancing Dog! Which I didn't stay long for. Hurray for being a broke art student!
The On Foot art crawl was an event which was put together masterfully. The structure was flexible and flowed effortlessly. It allowed people to explore freely without the feeling of being bound to a tight schedule. It showcased the diverse range of spaces presently operating within Footscray and provided an excellent opportunity to meet local artists and people within the Footscray arts community.
If you want to go out and see art in the west, then Footscray is an amazing place to do it. The close proximity and diversity of the spaces along with the warm welcoming arts community makes Footscray a very friendly scene to get involved in. I have never signed up for so many mailing lists in my life.
If you would like to participate in the next Footsrcay Art Crawl (this time organised by Maribyrnong City Council) on 29 June see this link: Footscray Tours