The Colour Box Studio Pop Up Shop is back! We opened with our first shop in 2012 so we're excited to be able to offer you more locally handmade and designed art and things in 2016!
——-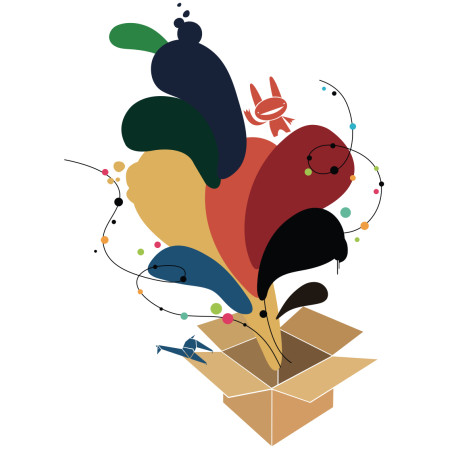 2016 SPRING POP UP SHOP
October 7 – November 4
It's spring and Colour Box Studio is hosting a Spring Pop Up Shop! From October 7 to November 4, we will be showcasing a range of handmade and designed art and objects made by over 30 local creatives at our space at VU at MetroWest in the heart of Footscray.
On offer will be illustration works and art prints, handmade jewellery in precious metals as well as colourful resin and polymer clay, screen printed cards and textiles, handmade candles, art prints, hanging planters and pots, and other homewares – all made and designed by local artists and creatives!
Featured artists and labels include Lucy in the Sky Illustration, Emilia Rossi, Heather Grafton Illustration, Hannakin, Peace Love Candles by Anna, Lila&I, HANDSIGNS BY YURI, Silly Rabbit, aeonic design, Coco and Max, goschen girls, MixedMetalJewellery, Flux Universe, Jane Stradwick, Ben Street Art, Aacute, Studio Bonnici, Second Chance Crafts, Fox and Ramona, Feather and Spear, Wally, Luna + Whirl, Warisa, New Model Beauty Queen,  Frou-Frou & Sparrow, Robyn deBoar, KingasArt, Architact Collective, Yellow Ark, Spin Spin, Vicki Kinai and Troika Design.
To kick things off, Colour Box Studio will be hosting a Spring Pop Up Shop launch party on October 7th. As well as a chance to pick up a few goodies, the launch will be an evening full of exciting programming where you can shop and meet local creatives. Melbourne-based sculptor and ceramicist, Carolyn Warren-Langford of The Bead Project will also be running a pop-up workshop where you can make your very own palm charms. And you can grab a FREE cold locally brewed beer from the Footscray based Hop Nation who are sponsors of our event. And Mr Nice Guy will provide buns and bronuts for shoppers to munch on throughout the evening!
After the launch, the pop up shop will be running five days a week for four weeks. Spring is the time to really sink your teeth into all things creative with Colour Box Studio.
Colour Box Studio Spring Pop Up Shop Details
Where: VU at MetroWest, 138 Nicholson Street, Footscray, VIC 3011
When: Launches on October 7 from 5PM. Open: Tuesday-Friday 9.30-5, Saturday 10-4 until November 4.
Past Pop Up Shops
Colour Box Studio has a history in the pop up shop space. In 2012, Colour Box Studio's first event was a pop up shop. Since then, we have run a sustainable, ethical fashion pop up shop, a book shop featuring local writers, a summer pop up shop, and we even featured at Pozible's own pop up shop in 2013. Our pop up shops were also featured in popular publications, Peppermint and Frankie Online.
All of our pop up shops aim to support the local creative economy. We focus on sustainable, handmade art and objects made by local makers, crafters and creatives.    
About Colour Box Studio
Based in Footscray, Colour Box Studio is an innovative arts programming facilitator for creatives and communities. It is a unique space where local artists and creatives are showcased through a  diverse range of artforms and creative programming that includes workshops, events, public art, and of course, pop up shops.  
Useful Links:
Website Event: http://colourboxstudio.com/event/colour-box-studio-spring-pop-up-shop-2016/
Facebook Event: https://www.facebook.com/events/591808770991551/
Instagram: @colourboxstudio