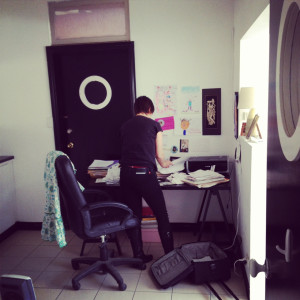 Artist Kate May Good is exhibiting an installation entitled "B.L & AL" as part of Colour Box Studio's Members and Volunteers Showcase program (launch event – Throw Up Your Art, Thursday 31 October, 6pm). We chatted with Kate to find out more about her arts practice.
[Above Photo by Vincent Long]
Tell us a little bit about yourself and what you do?
Well, my name is Kate May Good and I'm a Visual Artist. I have always worked in self-portraiture but the portraits I produce paint a picture of what is happening in my life as opposed to a physical reproduction of my face. I bare all in the hope that people will be able to connect with my work and gain something…whether that be insight, knowledge or the feeling that they are not alone.
Describe your art form.
I start by asking myself what is going on for me lately, something will come up which dominates that moment in time, whether it be internet dating, reigniting a high school romance through texts and Facebook messages or custody battles and court hearings… then I start working on that subject and produce a visual art work in whichever medium I think suits it best.
How did you come to it?
I completed a 3 year degree in Ceramics but I was always trying to surreptitiously change paths but never having the confidence to do it. In the past couple of years I have had some really amazing supportive teachers at RMIT and in my 'Painting' classes I produced installations, photo essays and even a 380 page book. To put it simply I have finally found my art 'mojo", I'm really focused in my practice now, I believe in my work and what I am trying to do.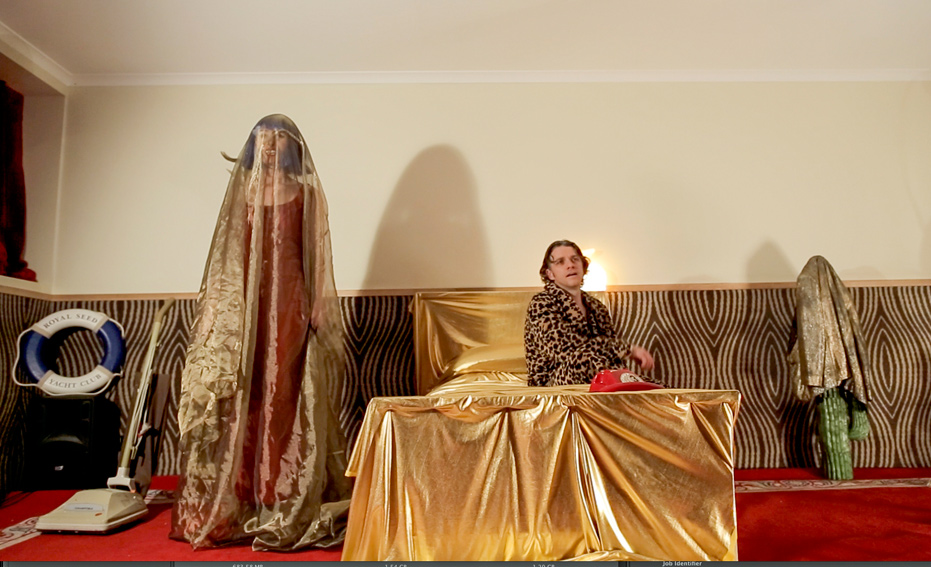 Tell us a about your past projects and what has been your most treasured creation?
Last year at RMIT I exhibited a photo essay on a wall, which was connected to a padlocked cabinet, lit from the inside which encased mementoes from my Internet dates with my 'Mr Big'……a towel, his shirts, candles, the wine bottle from our date, our glasses with the remnants of wine left in them and lip prints on them. After the date I would put the remnants of the date i.e. the physical items in a box. There they would wait until I needed to produce the final installation for the exhibition.
The next work I did was a 380 page book titled 'It's Lentils for you, Baby'…it is a true story of a relationship between myself and the anonymous protagonist; Nelson Robertson. It tells the story of a relationship played out through Facebook messages, emails and texts. The book led to a paste-up and a short film for Art in Public Places for the Hobsons Bay City Council and also a production for the Melbourne Fringe Festival, 2013.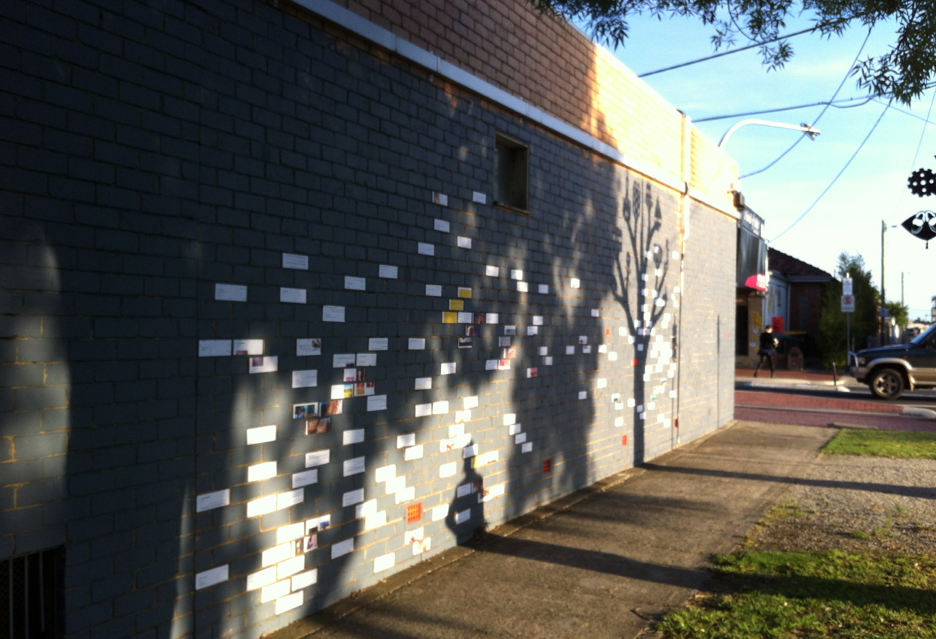 Where did you grow up and has it influenced what you create?
My child-hood was spent between two very distinct and dissimilar places – my younger years on a hippie commune called Tuntable Falls near Nimbin and my teenage years in the Sutherland Shire of Sydney. I didn't fit in in either place. I think everything around you influences you in what you create, whether you're aware of it or not.
Where do you feel most creative?
Shooting the breeze with my awesome friends…
What will you be working on next?
Lentils leads…..hopefully a film with a few of the aforementioned friends…..
What can visitors expect to see when they come to the Throw Up Your Art Launch?
I can only speak for myself. I hope they see an insight into my personal version of what it means for me right now to be a woman/mother as opposed to my last work, which would have been a woman/lover.
KATE MAY GOOD
ARTIST'S STATEMENT
Title of work : 'B.L. & A.L.'
Dimensions : Approx 2m X 2m
Medium : Mixed Media
What does B.L. and A.L. stand for? Before Lentils and After Lentils
All of my work, throughout all mediums, explores varying aspects of the
human condition through the use of self-portraiture. Whatever is going on
in my life at the time, I do an artwork about it – whether it's internet dating,
reigniting a teenage romance or divorce and custody battles.
The medium evolves organically depending on what is required… it may be
photography, installation, film or even the writing of a book.
This work aims to be a thought-provoking commentary on separating families,
emotional abuse, impact on children, loss and grief.
Members and Volunteers Showcase Program Opening Hours:
28 October – 6 November 2013:
• Mon 28 OCT – Friday 1 Nov (12-6pm)
• Thurs 31 OCT (6-9pm Throw Up Your Art Event)
• Sat 2 Nov & Sun 3 Nov (11am-4pm)
• Mon 4 Nov – Wed 6 Nov (12-6pm)
236 Nicholson St, Footscray.
How to get there: CLICK HERE