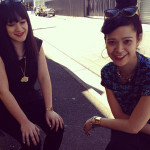 The Super Rad Nail Sisters – Rohani and Rosalie Osman – are super talented creative peeps! Their signature colourful creative nail art is taking Melbourne by storm. They're running a Nail Art workshop on Sunday 8 September 2013 and will be sharing their style, flair and secrets. We recently had a chat with Rohani and Rosalie…
Tell us a little bit about yourself and what you do.
The Super Rad Nail Sisters are Rohani and Rosalie Osman. Coming from fine art/textiles and animation/illustration backgrounds, respectively, we have decided to use our talents on the micro canvases that are your nails.
Describe your creative practice. How did you come to it?
After a trip to Europe, Rosalie came back with a suitcase full of nail polish (all of the colours!) and regaled stories about how crazy the nail art scene was over there. With a bit of patience, and a lot of practice, we began experimenting with the basics of nail art techniques. After some time, our friends wanted in on the action and started requesting that their nails be painted with the designs we had been practicing. It all kind of snowballed from there. We set up our nail art business at the end of July 2012 and have been on a roll ever since!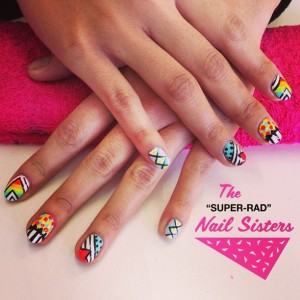 Tell us about your past projects. What has been your most treasured creation?
We have worked at parties for Vans, The People's Market and FAT Stores where we have set up pop up nail bars which have all been a lot of fun. I would have to say, though, painting the nails of Wayne Coyne (the lead singer of The Flaming Lips) was our greatest experience so far. We were very lucky to have met him and created a special set of nails to paint on him for their show at The Falls Festival they played last year. It was really cool being invited to the show and seeing his nails up on stage. They even glowed with the black lights during some of the show. That was an awesome experience!
What is your current project?
At the moment we are working on some special designs for the launch of Crumpler's new women's bag range. We will be setting up a pop up nail bar for the opening event and painting the nails of the party goers. This is heaps of fun as we get to play with new nail polish colour and make up designs to match the bags. There are some pretty outrageous designs for this one that we haven't done before.
Who or what was your inspiration?
We take inspiration from all sorts of things. A lot the designs we do come from current fashion designers and trends, pulling small sections of patterns out and simplifying them or experiment with textures to make them look great on nails. It's also fun trying to paint everyday objects (we like to paint pictures of food a lot) really tiny; very challenging, but very rewarding. Basically, we like to paint anything that gets a laugh out of people.
Where do you feel most creative?
It's not the most ideal location, but we do most of our experimenting on the couch at home in front of the TV! It's the sort of place you can relax and not have to think too much, which seems to work well when we are creating new designs. I guess it's kind of like knitting or gardening, we get into a sort of zen like state painting nails, nail polish fumes aside!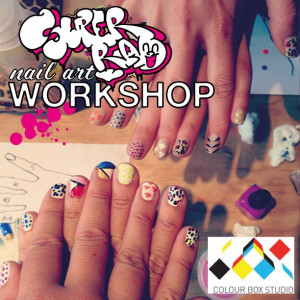 What can visitors expect to see from you through your involvement at Colour Box Studio?
Through our upcoming workshops participants will learn some basic techniques of creating nail art. With these skills we show you how to create simple yet effective designs as well as designs that look difficult but are quite easy to achieve with a bit of practice.
Where can people find more info about your creative practice?
Check out our website and social media links!
thesuperradnailsisters.com
twitter.com/nailsisters
facebook.com/TheSuperRadNailSisters
IG: @superradnailsisters
Get in quick to book for The Super Rad Nail Art Workshop at Colour Box Studio.